All four of Wyre's beaches fly the Seaside Award flag, setting them apart as some of the best in the country. Rossall Beach and Jubilee Beach in Cleveleys, plus Marine Beach and Ferry Beach in Fleetwood, have all been awarded Seaside Awards.
Keep Britain Tidy's Seaside Awards are the nationwide standard for the best beaches across the UK. The flag is a symbol of quality that ensures visitors find a clean, safe, attractive and well-managed coastal stretch. Wyre also has two designated outdoor swimming spots at Cleveleys and Fleetwood. These bathing spots are both classified as 'good' in terms of water quality, under tough European cleanliness standards.
Members of the public can play a big part in improving beaches and bathing waters by thinking about what they flush, not dropping litter, joining in beach cleans and always picking up after their dogs.
Beach safety
Safety is important for both Wyre residents and visitors to the beaches. For more information on tide times, emergency services and steps you can take to ensure your own safety, please see our beach safety pages.
Motor vehicles
Please not motorised vehicles are not allowed on any of Wyre's beaches.
Dogs on beaches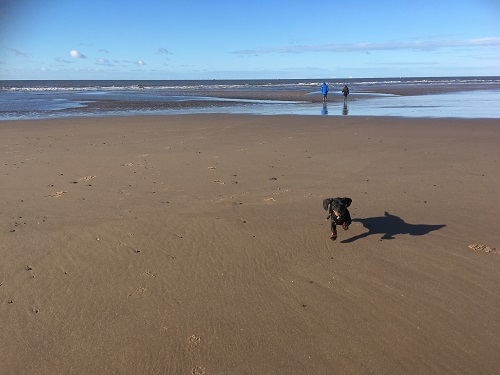 The majority of the coastline in Wyre with public access also allows access to dogs. However, there is a seasonal dog ban between 1 May - 30 September on certain parts of our beaches to help keep our bathing waters clean and healthy.
The dog ban takes place in these areas:
Cleveleys beach from Café cove to the Wyre borough boundary
Fleetwood beach from central car park (by the café) to the coloured beach huts next to the play area
You can download the dog-restricted area maps for an in-depth look at where the ban includes.
During the dog ban season there are large parts of the beach where dogs are still allowed, so there is plenty of space to enjoy. Anyone breaching any of our Public Space Protection Orders relating to dogs will be issued with a Fixed Penalty Notice.
Remember, you must pick up after your dog on the beach. The sea washing it away is not an excuse – think about what happens until the tide comes in and how it will then affect the water quality. Always pick up after your dog, and remember that any bin will do.
Palm oil
Wyre has experienced incidents of palm oil washing up on our beaches, which can be fatal to dogs. If you spot palm oil, it is important that you do not remove it yourself and to report what you have seen to the council by calling 01253 89100.
Bathing water quality
We have two designated bathing waters in Wyre: Fleetwood and Cleveleys. We are proud that both are rated as Good by the Environment Agency.
For more details about how this is tested and what you can do to help see Bathing water quality.
Water sports code of conduct
There are several places along our coastline where there is public access to the coast for water based recreation.
Please think about your safety and be aware of our code of conduct as follows:
• The Wyre Estuary is a part of Morecambe Bay which is internationally important for wildlife
• Mudflats, sandflats and salt marshes provide roosting sites and feeding grounds for wildfowl and wading birds
• The ungrazed salt marshes are rich in flowers, which are important to the North West coast
• The mouth of the estuary is a working port and covered by byelaws
• Please respect other users and wildlife
• The safety of all users is of paramount importance
• Ensure you check the current weather forecast visit BBC - Tide Tables for tide times and details.