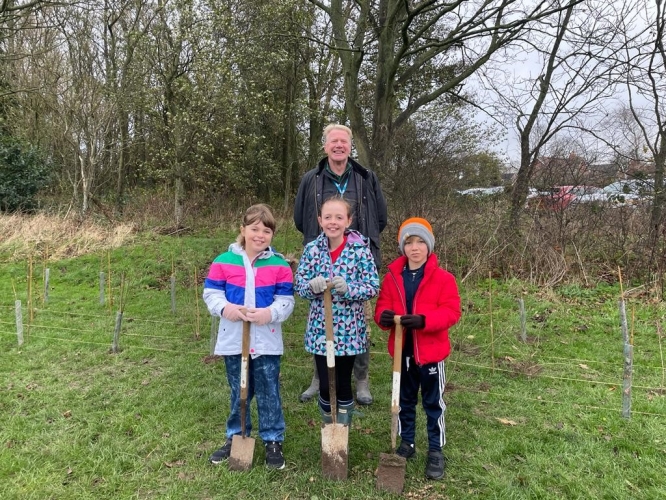 Members of the public including school children and volunteers joined Wyre rangers and staff to help plant over 3,000 trees as part of Wyre Council's pledge to help tackle climate change.
Taking place during National Tree Week, the council have been inviting members of the public to help plant over 3,000 trees to create woodlands and hedgerows.
Wyre Council declared a climate emergency in July 2019 and have since been working to reduce the council's emissions by at least 78% by 2035.
To help achieve this, the council is working with the Woodland Trust to create 10 hectares of native woodland and hedgerows across its open spaces by 2025.
Students from St John's Primary School in Poulton and members of the public joined in to help plant a variety of tree species including hazel, hawthorn, bird cherry and dog rose.
Councillor Simon Bridge, Portfolio Holder for Parks and Open Spaces, commented, "It was amazing to see members of the public join our staff and rangers.
"I was especially impressed with the students from St John's Primary School who already knew so much about the importance of trees and got stuck in with the planting."
Another tree planting session will be held at the playing fields behind the Civic Centre in Poulton on Thursday 2 December between 9.30am – 12 noon and 1pm – 2.30pm and members of the public are invited to join in.
To book your place please call, Visit Garstang Centre on 01995 602125 or email garstangtic@wyre.gov.uk.
To find out more on how the council plans to tackle climate change in the borough, visit www.wyre.gov.uk/climatechange