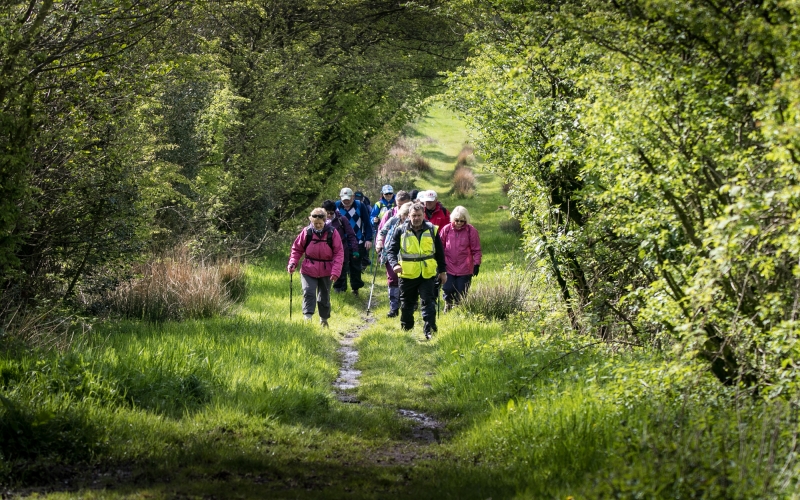 Wyre Council has recently relaunched its Great Outdoors programme of walks and activities which last week saw the return of the Garstang Walking Festival for the first time since 2019.
Regular guided walks and outdoor activities are hosted by the council to encourage people to get outside, get active and explore the district. Garstang Walking Festival is a highlight of the calendar every year but had to take a break in 2020 due to the pandemic.
Last week the Friends of Garstang Walking Festival and Wyre Council were delighted to get things back on track as the festival returned, welcoming new and seasoned walkers from across the North West.
Taking place across five days, a range of walks and activities took place to encourage people back to the area and back to walking as well as the chance to socialise following the restrictions of the last 18 months.
From 28 August to 1 September both local people and visitors from further afield were able to enjoy the wonderful sight of purple heather moors on many of the upland walks, see swallows flying around farm fields in search of insects before their long flight back to Africa and watch by torchlight acrobatic bats swooping to catch moths.
Walkers met enthusiastic volunteer walk leaders who shared their knowledge on the heritage of Winmarleigh, Scorton, Bleasdale, Glasson, Garstang and the Langden Valley. They enjoyed special views over the Fylde from vantage points all around Calder Vale, Scorton and Bleasdale and took time to stop, chat and meet each other in the fresh air of the glorious countryside of Garstang, Rural Wyre and the Forest of Bowland.
Speaking about the festival, Peter Embery, Countryside and Coast Walker Leader, commented, "I have been a walk leader since 2004 and have taken part in various Garstang Walking Festival events each year. The Walking Festival Committee put together an excellent programme of events for 2021 albeit at a later date than the normal May date.
"I was away for the first week but I was determined to take part as soon as I could and was Co-Leader on Langdon Valley event where the walk was looking at the Memorials to the Airmen who were killed in the Second World War after crashing on the surrounding hillsides mainly in bad weather and aircraft which had been damaged on bombing missions.
"The day of the walk was in beautiful weather with the hillsides looking splendid with the colourful heather and clear views of our beautiful countryside.
"I hope those that joined this event and any other walks enjoyed their time and we look forward to seeing you again next year."
Councillor Lynne Bowen, Portfolio Holder for Leisure, Health and Community Engagement at Wyre Council comments, "We would like to thank the Friends of Garstang Walking Festival for their unfailing optimism and commitment to the Festival - planning was started in deep dark winter during the lockdown - and to all the amazing walk leaders who gave up their time to make the festival such a wonderful experience. Anyone who came along, or who'd like to see what the festival is all about should take a look at the Garstang Walking Festival Facebook page for photos of the festival taken by local photographer Michael Coleran. We hope to be back with an even bigger and better festival in spring 2022."
Plans now continue for autumn and winter and Wyre's Great Outdoors calendar has plenty health walks and guided walks for you to take part all listed on Facebook @WyreCouncil and on the council's website at www.wyre.gov.uk/events
If you would like to help coordinate future walking festivals or lead new walks for 2022 please get in touch with the council by email at countrysideservice@wyre.gov.uk.
You can find out about next year's festival by following Garstang Walking Festival on Facebook or by visiting www.wyre.gov.uk/garstangwalkingfestival