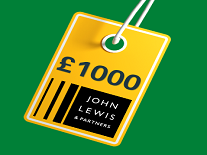 Sign up and support your local community today!
Not only will you be in with the chance of winning weekly cash prizes up to the £25,000 jackpot, but, if you enter before 30 October, you will be in with the chance of winning £1000 of John Lewis vouchers!
Wyre Lottery is a lottery for the people, by the people of Wyre. It's a fun way to help local good causes without giving up precious time. Tickets are £1 in the weekly draw where you get to choose exactly which local group you would like your money to go to.
The local lottery is already helping 41 local causes raise unlimited, year-round funds. There are no upfront costs, it's quick and easy to register as a good cause and once approved you get:
your own webpage on the lottery site
a no risk prize structure to help engage your supporters
a wealth or marketing material and support to help on your fundraising quest
a steady monthly income for your good cause paid into your bank account
Plus, if you are registered and approved before the 30 of October you will gain access to the additional bonus offer to promote to potential new supporters – £1000 in John Lewis vouchers!

To buy tickets visit the Wyre Lottery website or call 01253 578579.

The draw is on the 30 October and the results will be announced at 8pm on the lottery website.