Council tax
The Government announced that they would allow districts to increase council tax by up to 3% or £5 a year on a Band D equivalent property, if that is greater than 3%, without triggering a referendum. Their spending power calculation for 2023/24 assumes that districts will increase their council tax by whichever is the highest.
We have decided not to follow the government's lead and instead keep costs lower for residents whilst continuing to provide Wyre's vital front line services. This equates to a rise of £5 (2.33%) a year on a band D property, or just 10p per week, and means that the overall cost for all Wyre's services will be 60p per day.
Where does your council tax go?
Council tax is made up of a number of payments to the authorities that provide services in the area: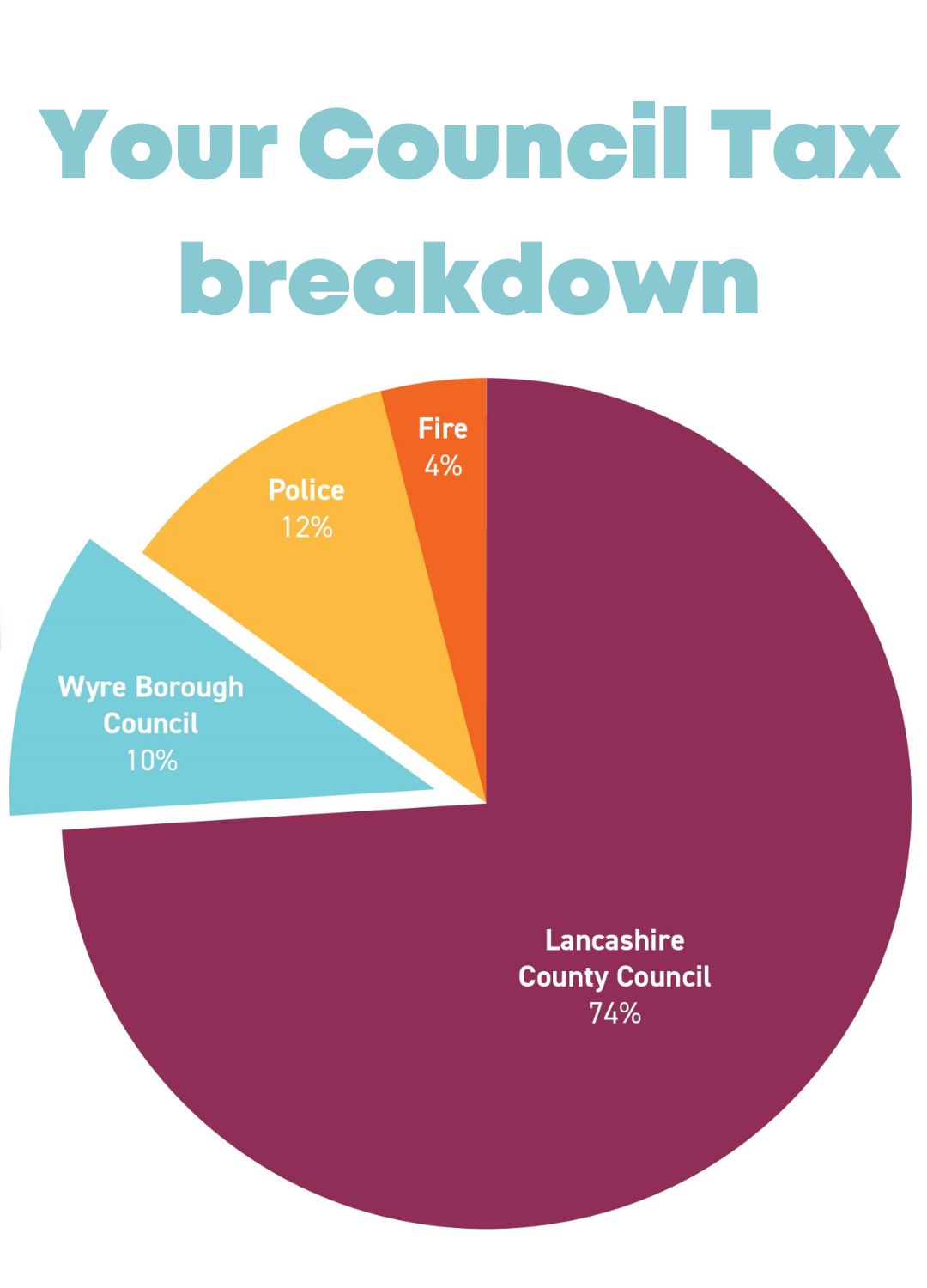 Wyre Council
Lancashire County Council
Police and Crime Commissioner
Combined Fire Authority
Parish and Town Councils
Wyre Council is the billing authority and collects council tax on behalf of all these agencies however Wyre's portion represents 10.3% or £219.74 (on a band D property) of the total amount of your bill.
By how much has our government funding been cut?
2013/14 - a reduction of £0.5m or 7%
2014/15 - a reduction of £1m or 14%
2015/16 - a reduction of £1m or 16%
2016/17 - a reduction of £0.9m or 16%
2017/18 – a reduction of £0.7m or 14%
2018/19 – a reduction of £0.4m or 9%
2019/20 – a reduction of £0.4m or 10%
2020/21 – a slight increase of £0.05m or 1.6%
In 2021/22 our baseline funding was frozen at £3.409m. We also received £0.145m in Lower Tier Authority grant.
In 2022/23 our baseline funding was frozen at £3.409m. We continued to receive the Lower Tier Services Grant at £0.156m, Revenue Support Grant of £0.001m and as a one-off we received £0.235m in 2022/23 Services Grant.
In 2023/24 - over the thirteen years up to and including 2023/24 we have lost £6.9m in funding which is the equivalent of nearly 77% of our grant back in 2010/11 (which was £8.9m).
What can we expect in future?
2023/24 is another one-year settlement deal so beyond this our funding position is uncertain. The current government are not intending to conduct the delayed Fair Funding Review and Business Rates Retention Reform before 2025/26.
How have we compensated for the reduction in funding?
We've prepared for it over the years by reducing spending, not increasing the level of borrowing and balancing the books through efficiency savings, income generation and prudent financial management including exploring commercial opportunities.
We also have an excellent track record in efficiency savings which has protected residents from the full impact of reductions in funding. We've saved nearly £7m between 2010/11 and 2021/22 that's an average of £606,000 per year.
Wyre has never shied away from challenging how we deliver services or making difficult decisions and will continue to do so. This means continually reviewing how we operate, being innovative and ensuring services meet the needs of our communities.
What does the budget mean for residents?
We've been steadfast in protecting and improving council services so residents consistently receive high standards of delivery.
Our latest Life in Wyre Survey results show that 78% of our residents are satisfied or very satisfied with where they live.
With an excellent track record in identifying efficiency savings and doing more for less, Wyre is in a strong financial position and we're planning ahead for potential changes in the funding allocation over the coming years.
Residents will continue to benefit from investment thanks to an approach of investing now to save money in the future and our track record of bringing in external funding.
As we ensure that we make best possible use of our assets, taxpayers can be certain of value for money and be reassured that we will negotiate improved community facilities where alternative options are required.
We will continue to generate investment and encourage development in the borough by providing a supportive business environment and making Wyre an attractive place to live and work.
Communities remain at the heart of everything we do and we will continue to find new ways of working, improving our services and providing excellent value for money.
The council's business plan is set into three sections: Economy, People and Place and some of our key activities over the last twelve months and looking to the year ahead, follow in this section