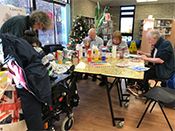 The Arts and Health programme is about participating in creative activities and having fun. The health and wellbeing benefits of arts activities are well documented, and people that come along to the sessions make new friends, enjoy the social opportunity and learn interesting new creative skills. It's not about reaching a standard, just having a go!
Just Reminiscing
Free sessions, no need to book, just come along and handle objects/artefacts and scrapbooks from decades gone by and share your precious memories with us. Weekly two hour drop-in sessions are held at various public venues. If you would like us to bring our reminiscence session to your event or social group please get in touch
Fun Arts
Free, relaxed and sociable. Come and have fun playing with paints, canvases and other easy and accessible materials. This is also a dementia friendly activity that supports people living with dementia and their carers. Supported by a friendly session leader, you can have a brew and a chat and take home whatever you make. Garstang YMCA, Thursdays 11.30am - 1pm.
Volunteer recruitment opportunities
We are looking for more enthusiastic volunteers to help deliver arts, crafts and health activities across Wyre to help people in our communities learn fun and creative things. Are you good at crocheting, needlework, knitting, creative writing, paper crafts, digital art? We'd love to hear from you, so please email artsandevents@wyre.gov.uk and we'll be in touch for a chat.
Free childen's creative session
Free two hour drop off sessions for children aged 7–11 years old. Sessions are hosted at the outdoor classroom, Wyre Estuary Country Park in school holidays. Children are led by an experienced volunteer and sessions are so much fun, expressive and everyone makes things to take home. Please keep an eye on the council website and social media pages for details. To book contact Visit Garstang Centre