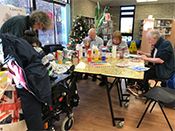 The Arts and Health programme is about participating in creative activities and having fun. The health and wellbeing benefits of arts activities are well documented, and people that come along to the sessions make new friends, enjoy the social opportunity and learn interesting new creative skills. It's not about reaching a standard, just having a go!
See Community, leisure and health activities for more regular activities in Wyre.
Reminiscence sessions
Come along to our free, monthly drop in Reminiscence sessions on the first Friday of every month, 11am – 1pm, at Fleetwood Market.
See our interesting display of old artefacts, objects, decades scrapbooks. You can also play our new interactive Finding Fleetwood game where you will learn fascinating things about the town's history.
We would love to hear your happy memories of days gone by. Why not call in and stay as long as you like?
See Reminiscence sessions for more details on times and locations.
One of the Just Reminiscing volunteers had this to say about these sessions:
I decided to become a volunteer and join Wyre council in their new venture Just Reminiscing after my mum died. I had given up work to care for her as she had various ailments, the worst being vascular dementia. We had lots of bad days towards the end, but some really good days when mum was mum and we enjoyed talking about earlier memories, her mum, sister, family. Then she'd go and lose her teeth, and swear blind they'd been stolen, only for me to find them in the bin, she did find that funny. Or she'd go wandering off, only to be brought home by police.

Dementia is a dreadful disease and anyone going through what I have been through needs a medal. It's lovely to have someone to talk too, even a 10 minute chat can relieve some of the stress and may just jog a loved ones memory of something from their past which has been forgotten, even what they had for breakfast! Volunteering is a very good way to share experiences and help in any small way possible.
Fun Arts
Fun Arts is a free, relaxed, and sociable event. Come and have fun playing with paints, canvases, and other easy and accessible materials. Activities are also dementia friendly, supporting people living with dementia and their carers.
Fun Arts is supported by a friendly session leader. You can have a brew and a chat and take home whatever you make.
Craft and Laughs
Expect a warm welcome from this lovely, friendly Craft and Laughs group at Thornton Library. Our local volunteer will provide lots of fun and playful craft materials to enable you to make beautiful things which you can take home.
Art, Take Part
Art, Take Part is led by an experienced volunteer artist who will help you learn new skills. Many types of painting and creative techniques are available to try your hand at, with a focus on watercolour painting.
These sessions are suitable for everybody, including those living with dementia.
Free children's creative session
Don't miss our two hour drop-off sessions for children aged 7 – 11 years old. Sessions are hosted at the outdoor classroom, Wyre Estuary Country Park in school holidays.
Children are led by an experienced volunteer and sessions are fun, expressive, and everyone makes things to take home.
Please keep an eye on the council website and social media pages for details.
Volunteer recruitment opportunities
We are looking for more enthusiastic volunteers to help deliver arts, crafts, and health activities across Wyre.
Are you good at crocheting, needlework, knitting, creative writing, paper crafts, digital art? You can help people in our communities learn fun and creative things.
We'd love to hear from you, so please email artsandevents@wyre.gov.uk and we will be in touch for a chat.