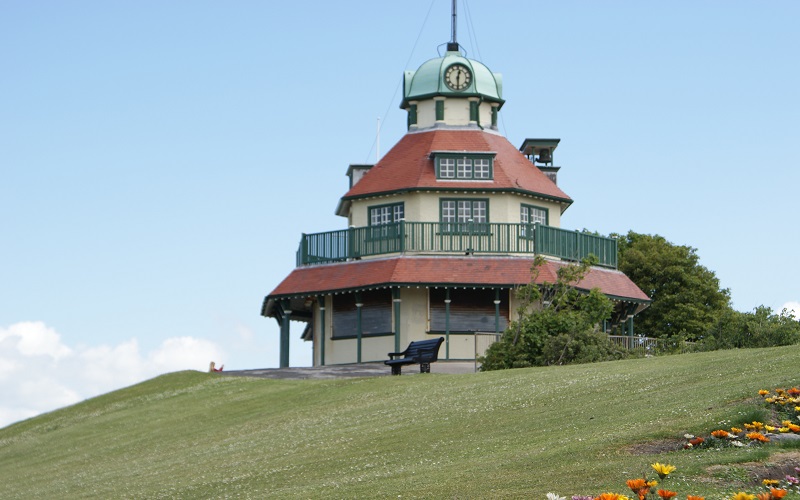 The Mount
Created in 1836, the Mount was used by Decimus Burton as a centre point in his design for Fleetwood. In 1841 the Lodges were built with the cobble walls following shortly after in 1864. The Pavilion seen on the top of the mount was built in 1902. The whole site has been given a grade II listing due to its historical significance.
History
The Mount is embedded in Fleetwood's maritime history. It played an important part in allowing Fleetwood to operate as a 24 – hour port in the 1800's. The flag staff was used to send flag signals to sea and the Pavilion building was used as a lookout for coastguards. The Mount was also used as a weather recording station. In 1886 the meteorological office fitted the Pavilion with an anemometer that recorded wind speed and rainfall. Recorded information was sent to Greenwich everyday by telegraph.
War Memorial Clock
The Mount Pavilion plays host to a registered WWI memorial. After WWI, in 1919, the Mount was presented with a clock to honour the men of Fleetwood who lost their lives in the war. The clock has two bells which produce a ding-dong chime on every quarter hour. It runs on a double three-legged gravity escapement similar to that seen in Big Ben.
Restoration
Thanks to a generous £1 million personal donation from Mrs Doreen Lofthouse, the seaward side of The Mount's Grade II registered gardens has been restored, bringing back the railings that topped the esplanade wall. At the same time the shelters have been restored, pathways repaired and resurfaced, and heritage benches added.
A further £2.4 million project with grant funding from the National Lottery Heritage Fund has transformed the landward side including the pavilion, the rose garden, the gate lodge and the playground.
Address for The Mount
Mount Pavilion, Fleetwood, FY7 6QZ.