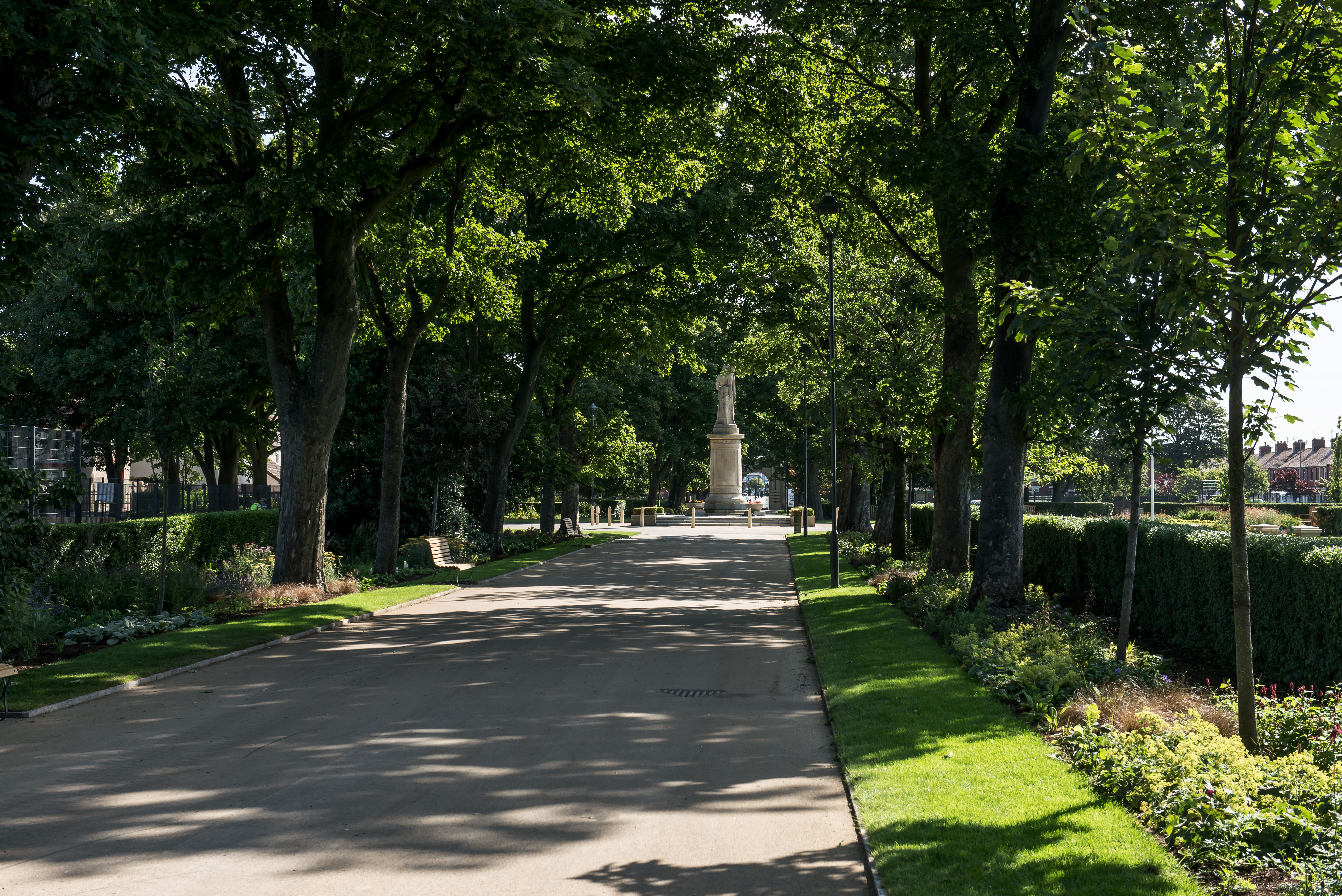 Memorial Park is a much loved Green Flag park in the heart of Fleetwood. Thanks to £2.4 million funding from the Heritage and Big Lottery funds, it has undergone an amazing restoration.
A new sensory garden has recently been installed at the park for group visits and you will find a wide range of facilities to enjoy on your visit. There are a number of pedestrian entrances round the site's perimeter.
We work closely with the Friends of Memorial Park volunteers to develop the grounds, plan events, and raise funds for the park. For upcoming events see our events calendar.
Facilities
children's play areas: 2 - 5 year olds can enjoy a unit with a ramp climber, lookout tower, scramble net, bridge, play wheel, and lion play panel. Children over 7 can scale new heights on our high slide, rope ladder, climbing walls, fireman's pole, and thorn climber. There's also a natural play area with climbing units, basket swing, and a mini roundabout
parkour equipment for those over 8
multi use games area: a state-of-the-art, free to use, area allowing football, cricket, and basketball to be played
two tennis courts
three traditional bowling greens (annual or seasonal contracts are available by contacting the Marine Hall box office on 01253 887693)
footpaths
woodland walk
open mown grass
wildflower areas and planting
picnic areas and seating
sensory garden
pavilion available to hire
trails and games on the Love Exploring app
Discover Memorial Park with the Love Exploring app
Funded for Wyre Council by The National Lottery Heritage Fund, the Love Exploring app is home to a range of quiz trails and guided tours that are fun to do and free to use.
Suitable for all ages and ideal for curious minds, you can find out about the parks history, ecology, and unknown park facts through guided tours and quizzes. From a fairy quiz to a dinosaur safari, the app will keep the whole family entertained for hours.
Simply download the Love Exploring app on your smartphone, available on IOS and Android, select Memorial Park, and scan away to explore and discover the hidden depths of Fleetwood's much loved park.
Book a tennis court
We have two tennis courts at Memorial Park. Visit Club Spark - Memorial Park book a court to book a court online.
Pavilion hire
Fleetwood's Memorial Park has been restored to its original 1920's landscape. The pavilion - which has previously served as a tennis pavilion, Second World War stretcher depot, and children's library - has been transformed into a new community hub. Set amongst beautiful grounds built in commemoration of the First World War, the pavilion is the perfect location to hold your event.
The refurbished building can be hired for meetings, community projects, events, and parties. It has a kitchen, fridge, and tea and coffee making facilities.
Hire charges
• full day: £50
• half day: £30
• evening (after 5pm): £40
Address for Memorial Park
Memorial Park, Fleetwood, FY7 7AQ.