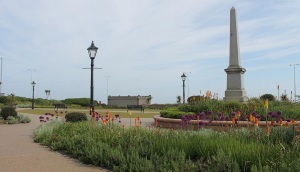 Visit this peaceful park near the unusual Lower Lighthouse and iconic North Euston Hotel to admire the view and learn a little of Fleetwood's past.
The park includes three benches with carvings designed by renowned artist Stephen Broadbent illustrating heritage relating to lives lost at sea, transport and Queen Victoria's visit in 1847.
Sir Hesketh Fleetwood's vision for the town included its role as a transfer point between the west coast railway and steamers taking passengers to the west coast of Scotland. The hotel was built to serve guests making this journey, together with the park and lighthouse this area forms the most extensive surviving part of Decimus Burton's town plan.
Discover the recently installed statue of the founding father of Fleetwood created by sculptor Alan Ward and made possible by Fleetwood Civic Society, Fleetwood Museum and Fleetwood Rotary Club. Did you know the rabbit at the foot of the statue of Sir Hesketh Fleetwood was named Burton in a school competition after the famous architect?
Location
Euston Park, The Esplanade, Fleetwood.