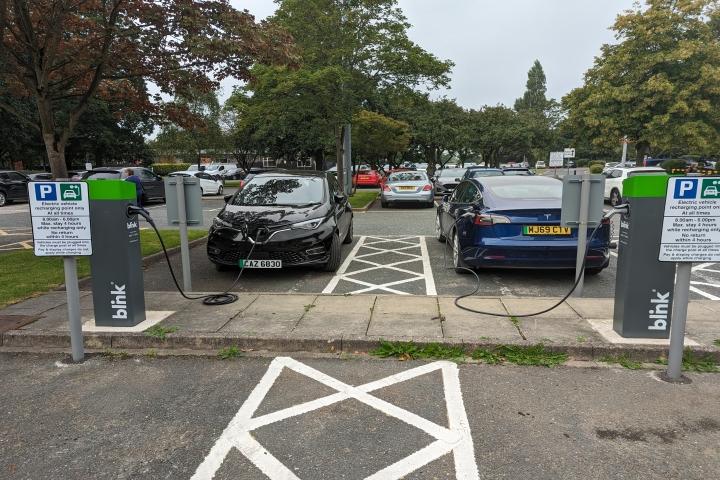 Wyre Council is on a journey to reduce council emissions by at least 78% by 2035 in line with UK Government targets.
Wyre Council has moved a step closer thanks to a decision to switch to sustainable biofuel and the expansion of its Electric Vehicle (EV) charging points.
A recent report has been approved for Wyre Council to utilise Hydro treated Vegetable Oil (HVO) fuel to replace diesel as the primary fuel used to power the council's vehicles. HVO is a more sustainable fuel than diesel as it is produced from fats and vegetable oils transformed into biofuel by hydrogenation. No costly vehicle upgrades are necessary for the swap, which allows for significant emissions savings for larger vehicles such as our bin wagons, where current EV technology and high costs limit the potential to go fully electric at this point in time. This positive, impactful change will result in a tremendous 30% reduction of Wyre Council's annual carbon footprint and is a worthy investment to make.
Wyre Council has also recently completed the installation of 23 fast charging points and 5 rapid charging points across council owned car parks in Wyre and all points are now live and ready for use.
These will allow users to park for free whilst charging their car for up to four hours on the fast chargers and an hour on the rapid ones from 8am to 6pm. After 6pm, cars charging can be left overnight.
The fast chargers require use of the Blink app and the rapid chargers have all been updated to allow card payment, without the need for an app and are ideal for people travelling to Wyre to use, or for residents to use especially overnight.
Saturday 9 September is World EV Day, a celebration of sustainable e-mobility, and of electric vehicle ownership. The aim is to recognise the benefits of electric vehicles and to encourage those who can, to move away from fossil fuel-based transport. To mark and celebrate the day Blink Charging, who manage Wyre's electric charging points will be giving a donation to charity for everyone who uses the points on the day.
Councillor Michael Vincent, Leader of Wyre Council said;
"It is fantastic to be able to report that we are making the move into biofuel alongside our progress on the installation of EV charging points across the borough. We hope to enable the successful uptake of electric vehicles for our residents. We are committed to driving forward these terrific improvements and initiatives and the positive outcomes that we will see as a result."
Some of Wyre Council's successful so far on the journey to net zero emissions -
Successfully awarded £1m for a public sector decarbonisation scheme at Fleetwood Market, including a whole building retrofit and installation of solar panels and air source heat pumps.
Awarded a further £177,728 from the government's Low Carbon Skills Fund to survey our buildings heated by fossil fuel gas and plan how to decarbonise and improve their efficiency.
Partnered with Chamber Low Carbon to offer free expert advice and support for businesses in Wyre to transition to net zero, available until March 2025.
Certified as the first Bronze level Carbon Literate Organisation in Lancashire following ongoing staff training, including senior leaders.
Purchased four electric vans for our authority fleet, installed electric-operated bin lifts in our waste collection vehicles, and optimised fleet vehicle routes.
Installed LED lighting throughout our Civic Centre, and implemented an ongoing plan of lighting replacement throughout our other sites.
Improved the sustainable management of our own green spaces, including meadow creation at Branksome, Stanah and Larkholme Grasslands.
Encouraged sustainable staff commuting, via a cycle to work scheme, secure cycle storage and discounted bus and tram travel.
Introduced an internal decision-making tool to identify any climate change impacts for projects and reports, and mitigate any negative effects.
Installed pool covers within our leisure centres to minimise energy waste and identified other key areas for ongoing improvement.
Learn more about our EV charging points
More information on Wyre Council's plan to tackle climate change