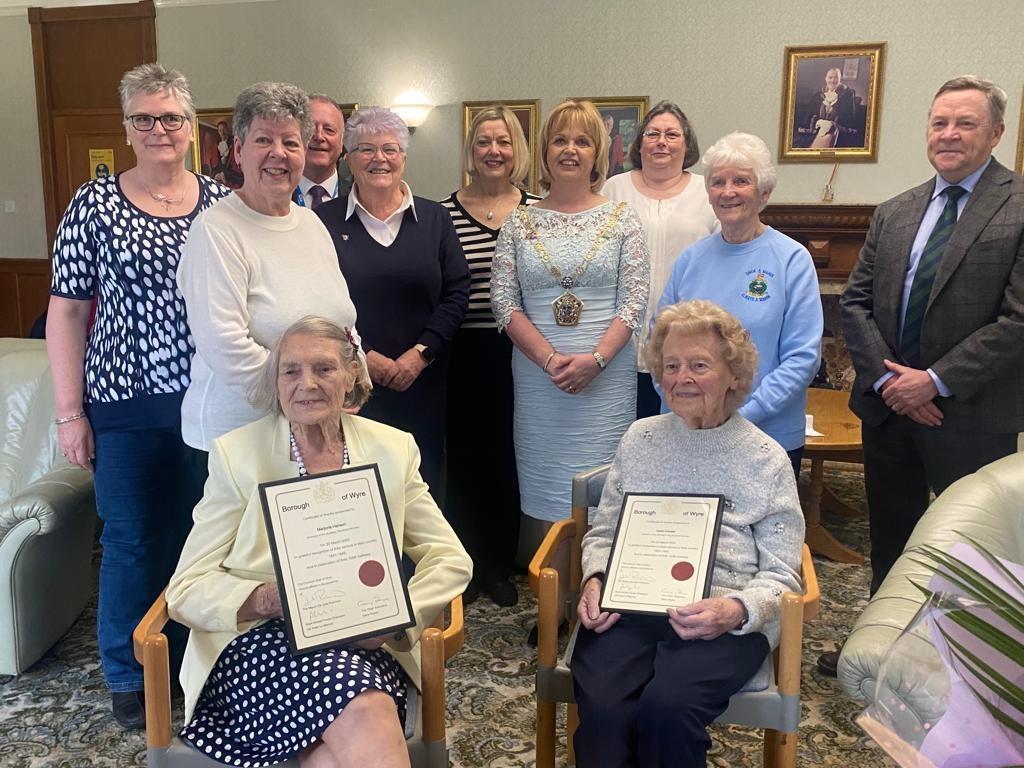 Today Wyre Council had the privilege of hosting a wonderful presentation of thanks for two extraordinary local veterans celebrating their 100th birthdays this year.
Irene and Marjorie local residents, who both served bravely in the Second World War, were joined by friends, family members and other veterans from the Womens Royal Navy and the Blind Veterans at the celebratory reception which took place at Wyre Council's Civic Centre on Monday 20 March.
Marjorie joined from Croyden in December 1941 and served as a Filing Clerk in the Auxiliary Territorial Service, the women's branch of the British Army during the Second World War until 1945. Marjorie was mainly based at Didcot and enjoyed the concert parties, being part of the gymnastics team and has remained in contact with all of the friends she made whilst in service.
Irene joined from Preston in December 1941 and served in the Fleet Air Arm of the Women's Royal Naval Service, popularly and officially known as the 'Wrens' until 1945. Irene was mainly based in Machrihansh and Donibristle in Scotland and remembers having to take submarine to get home for leave when there was no other transport to take, at a time when women were not permitted to serve on submarines. The submarine had to stay on the surface for the whole journey because of the Wrens on-board and the believed risk to female health.
Despite the tragedy of the Second World War, both of these remarkable women say that they enjoyed their time in service.
The Mayor of Wyre Councillor Julie Robinson, Wyre Council's Chief Executive Garry Payne and Armed Forces Champion, Councillor Peter le Marinel were also in attendance and presented Irene and Marjorie with gifts including cakes, framed certificates and a beautiful bouquet of flowers each.
Armed Forces Champion, Councillor Peter le Marinel said at the celebration,
"It is a privilege to honour both Irene and Marjorie with this presentation of thanks, a small gesture of our gratitude for their tremendous effort and contribution to our country and the armed forces. These women have my utmost respect and admiration and it has been wonderful to spend time and share stories with everyone today."
Leader of Wyre Council Councillor Michael Vincent said,
"We wanted to honour our local veterans Marjorie and Irene and show our appreciation of their remarkable achievement as they reach their centenary year."
The Mayor of Wyre Julie Robinson added,
"It has been an absolute pleasure to host these special local ladies. Our thanks and well wishes to both Marjorie and Irene, it has been a pleasure to host them and their companions and we hope they have enjoyed the celebration today."