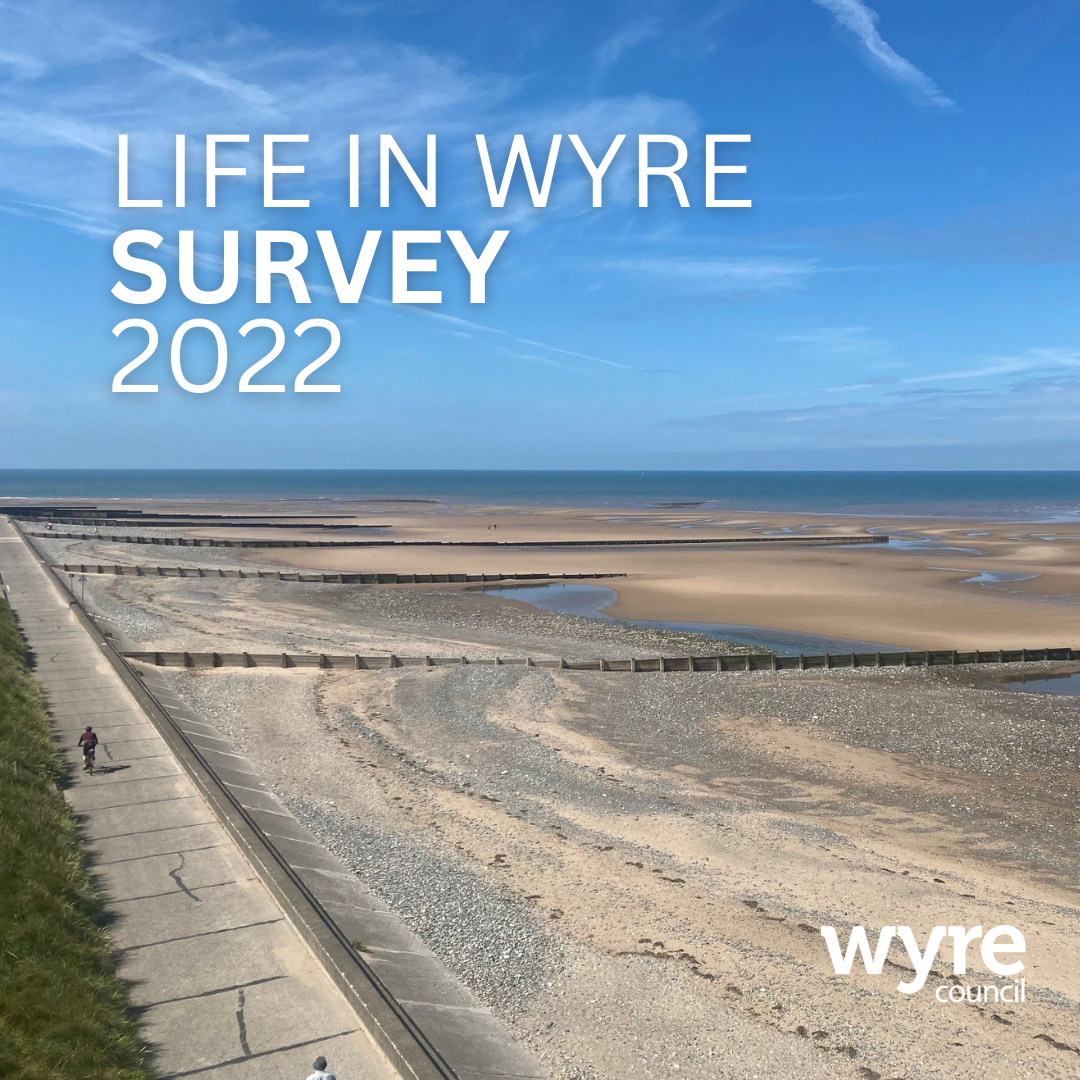 Life in Wyre Survey 2022 results
Results from the 2022 Life in Wyre survey undertaken by Wyre Council last year show that more than three quarters (78%) of residents are satisfied with Wyre as a place to live and over half (58%) think that residents are kept well informed about council services.
Between Thursday 29 September and Thursday 17 November 2022, Wyre Council conducted the first Life in Wyre survey since 2018, inviting residents to have their say on their experiences of being a Wyre resident. Usually carried out every two years, this is the first Life in Wyre survey to be held in four years due to the pandemic. The results are used to help determine priorities and inform the future delivery of council services.
Over 1,600 residents engaged with the survey, over 500 more than in 2018 and the results showed improved levels of satisfaction from respondents across many council services;
84% of people satisfied with Waste and Recycling services vs 73% in 2018.
72% of people satisfied with parks, playgrounds and green spaces vs 66% in 2018.
79% of people satisfied with promenade and beach maintenance vs 75% in 2018.
57% of people satisfied with Wyre Council's online services vs 52% in 2018.
56% of people satisfied with the provision of car parking vs 53% in 2018.
The survey showed that more than half (55%) of all respondents agreed that '59p a day per household, based on a Band D property, for all the services and facilities that Wyre Council provides' represents value for money, up 4% from 2018.
Around two thirds (65%) expressed satisfaction with keeping their area clear of litter and fly tipping.
People who had been contacted by Wyre Council in the last 12 months were asked for their satisfaction or dissatisfaction with their experience, over two thirds (67%) of people answered satisfied.
The results also show that more than half of residents are satisfied with Wyre Markets and Wyre Theatres, YMCA leisure facilities and community health and wellbeing activities and believe they are kept well informed of events, activities and things to do.
Residents were also asked what they felt needed most improving in the area where they live, with the principle response being roads and pavements at 58%. Lancashire County Council is the authority responsible for roads and pavements. For information, please visit www.lancashire.gov.uk/roads-parking-and-travel/roads/
Cllr Michael Vincent, Leader of Wyre Council states,
"Seeing these high satisfaction levels from the results of the survey is really encouraging. We know there is always room for improvement but these results show that we are meeting and exceeding prior satisfaction levels across the borough.

"With our dedicated staff and teams across our departments, multiple green flag awarded parks, blue flag awarded beaches, the launch and rollout of our online myWyre service and our provision of electric charging points across our car parks, these results reflect some of the hard work of the council in recent years.

"I will be sure to take the feedback forward to Lancashire County Council on the area that was identified as needing most improvement, which was roads and pavements."
View the full breakdown of results from the Life in Wyre Survey 2022 here www.wyre.gov.uk/downloads/download/272/life-in-wyre-survey-2022-reports
The results of the survey also show that the most popular option of receiving information about Wyre Council is the e-newsletter.
You can sign up quickly and easily here www.wyre.gov.uk/footer/enews-sign