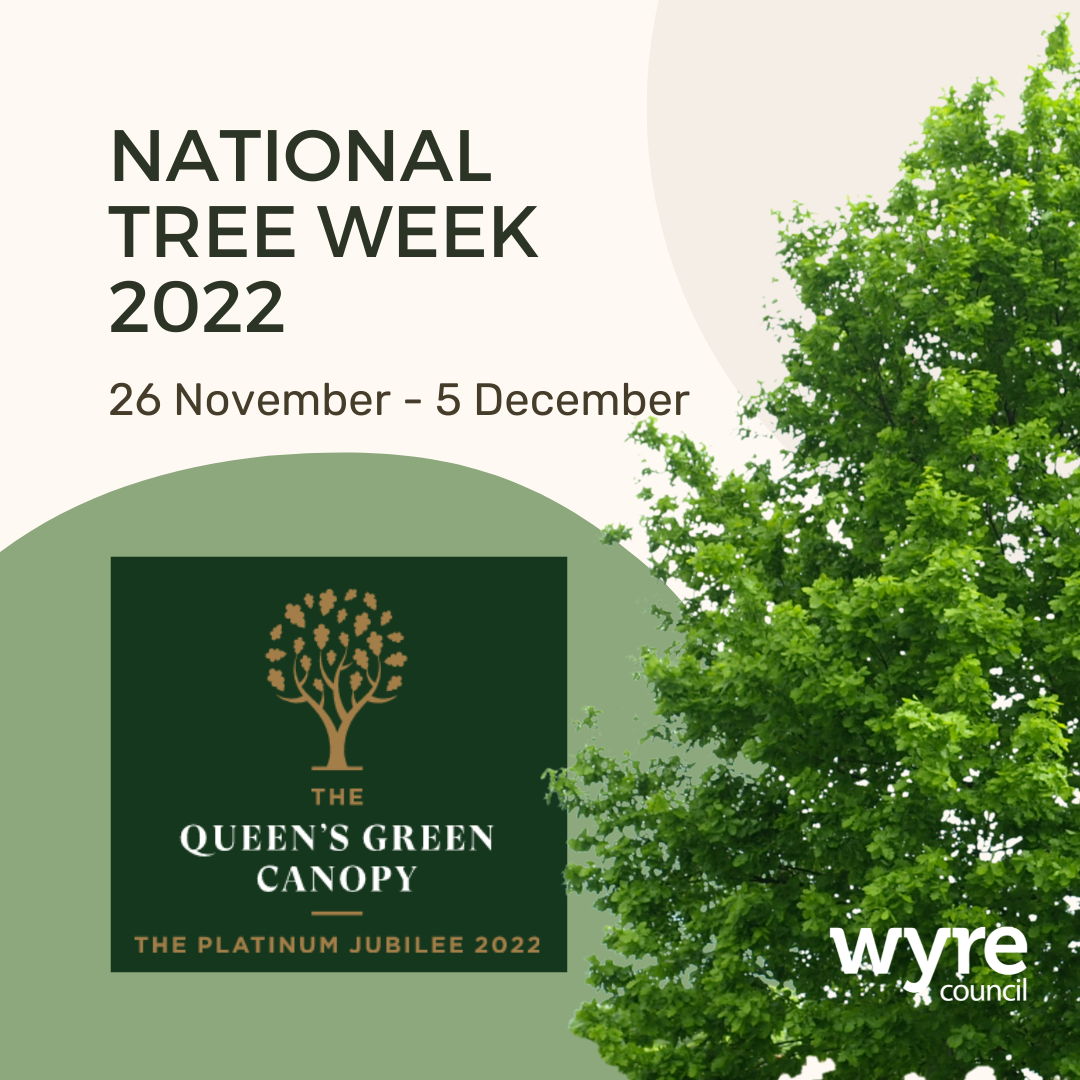 Wyre Council has committed to planting 25,000 trees as part of its pledge to tackle climate change.
To achieve this the council is working to create 10 hectares of new native woodland and hedgerows across its open spaces by 2025. This climate-focused tree planting is playing a vital role in mitigating climate change, protecting and enhancing threatened biodiversity.
The council is continuing with this initiative during National Tree Week celebrations where participants come together at the start of the tree-planting season to plant new trees between 26 November and 5 December.
During National Tree Week and throughout the tree planting season dignitaries, council staff, conservation volunteers and partners are working hard to plant and care for trees helping us to meet the council's climate change and biodiversity targets.
The Queens Green Canopy Tree Planting Ceremonies
Wyre Council is ceremonially planting seven large English oak trees throughout the borough in memory and honour of Her late Majesty The Queen and to mark the seven decades of the Platinum Jubilee.
These will be planted at the following sites with dignitaries and representatives of the council including, the Leader or Wyre Council Cllr David Henderson, Chief Executive Garry Payne, Youth Mayor Hannah Mullin as well as ward and parish Councillors.
Vicarage Park on Tuesday 29 November at 11am
Memorial Park, Fleetwood on Tuesday 29 November at 1.30pm
Hawthorne Park on Wednesday 30 November at 11am
Wyre Estuary Country Park on Wednesday 30 November 2.30pm
Preesall Playing Field on Wednesday 30 November at 11am
Great Eccleston Playing Field on Wednesday 30 November at 1.30pm
Riverside, Garstang on Thursday 1 December at 11am
This will be part of the nationwide Queen's Green Canopy Initiative and add towards the living legacy of trees dedicated to Her Majesty's exceptional service to her country and her people. Sustainable commemorative steel plaques have also been purchased from the Royal British Legion Industries charity for this purpose to help support veterans.
Councillor Simon Bridge, Portfolio Holder for Street Scene, Parks and Open Spaces at Wyre Council commented,
"It is wonderful to be able to honour the legacy of Her Majesty The Queen with these commemorative English Oak Trees planted across the borough. Trees offer huge benefits for mankind, wildlife and the environment from filtering out air pollution, improving our wellbeing, providing habitat and foraging opportunities for birds, bats and other wildlife, to helping mitigate against flooding. This is just one step we're taking in tackling climate change but we're pleased of the progress we've made so far."
Other events during National Tree Week include:
Sunday 27 November - Hawthorne Park
Pupils from Millfield High School and Trustees and volunteers from Hawthorne Park Trust and volunteers from the Wyre Conservation Day will be planting trees to enhance the biodiversity of the park.
Monday 28 November
Wyre Rivers Trust and their volunteers will be planting trees in the River Catchment to help with natural flood management.
Tuesday 29 November – Thursday 1st December Conservation Days – Native Woodland Planting
There are further Conservation Days for the remainder of the season, including collaboration with partners planting Native Woodland Trees. Furth information will follow in the New Year.
How to get involved
If you are interested in attending future tree planting and conservation volunteering opportunities, please email: countrysideservice@wyre.gov.uk or contact Wyre's Duty Ranger between 9am and 4pm on 07976650803.