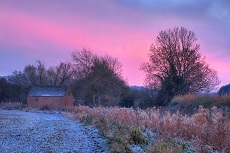 Do you know your emergency numbers? Are you prepared for severe weather? With the cold fast approaching, Wyre Council is advising its residents on how they can prepare for winter.
There are lots of steps you can take to prepare yourself for winter. From checking your flood risk to getting your flu jab, to knowing who to call in a power cut, we've put together some handy information for our residents this winter.
Wyre has experienced flooding in recent years. It's important to know your flood risk and to prepare. Sign up for free flood warning messages from the Environment Agency and visit our website for suggestions on how to prepare. www.wyre.gov.uk/flooding.
Book your flu jab. If you are over 50, pregnant, or have certain medical conditions, you can get an NHS flu vaccine for free. Visit www.nhs.uk to find out more and to book.
Make sure your medicine cabinet is stocked before Christmas closues come in at your local pharmacy. Visit the Fylde Coast CCG website for more information.
In the event of an electrical emergency or power outage please call 105 to be put through to your local electricity network operator. 105 is a free service, available from most landlines and mobile phones. For more information about the 105 service visit www.powercut105.com .
If you smell gas, think you have a gas leak, or are worried that fumes containing carbon monoxide are escaping from a gas appliance, please call the free Gas Emergency Services emergency line immediately on 0800 111 999.
Make sure you have basic supplies in case you have to leave home quickly or your power and water are disrupted. It's worth putting together a 'grab bag', with bottled water, medicines, a torch, radio and batteries, copies of important documents and a change of clothes.
Not everyone is able to access the help or information they may require to keep them safe and well in winter. It's nice to be neighbourly and the human contact with others can have really positive effects for everyone. You may be able to help your neighbour with an important job to prepare for winter, or your neighbour may be able to help you. Just taking time to make contact will be appreciated.
Cold weather can be a risk to your health, particularly if you are over 65 or have health conditions. Your home (and those of elderly relatives and neighbours) should ideally be at least 21 °C. During cold spells, keep your windows closed at night as this can cause a real drop in the temperature indoors. If you have a heating boiler consider getting it serviced before the cold weather arrives. Find out more about heating your home.
There are lots of things you could do to help your community, particularly if severe weather hits. Find out about getting involved in community emergency preparedness groups.
Remember, it's also worth keeping an eye on elderly and vulnerable friends, relatives and neighbors who may be more susceptible to the cold and wet weather. This is especially important if they suffer from any ongoing medical conditions or are on their own and may be feeling isolated.
Take a look at www.wyre.gov.uk/winter to find out more