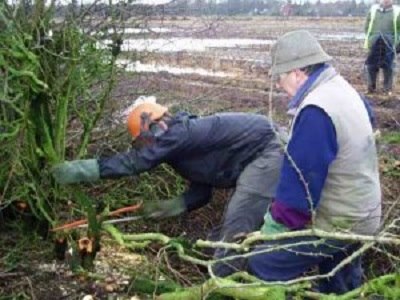 The annual hedgelaying competition has been running for many years and after a covid enforced break it's back this Sunday 21 November at Wyre Estuary Country Park.
Come and watch this traditional countryside craft in action as competitors battle it out to be best in class.
This event promotes hedgelaying as a traditional countryside craft, which is also beneficial to the health of hedgerows. Laying hedges keeps them thick and robust, so that it remains a stock proof barrier around farmer fields. It also provides an ideal wildlife habitat for a whole host of birds, insects and small mammals; acting as green corridors throughout the countryside and connecting a variety of different habitats. Hedgelaying is also of increasing importance in terms of carbon capture; laying the hedge re-energises the hedgerow, promoting new growth and vigour, so that it will absorb carbon dioxide in greater quantities and over a longer period.
The competition will see a small group of hedgelayers demonstrating their craft while competing to try and win their class in the competition. The Wyre and Myerscough College Competition is supported by Wyre Council and Myerscough College and is part of a Grand Prix of competitions that take place throughout the county of Lancashire and the old county of Westmorland, during the winter months. All the competitions are members of the Lancashire and Westmorland Hedgelaying Association, who co-ordinate the Grand Prix.
The Lancashire and Westmorland Hedgelaying Association is currently trying to spark new interest in this traditional craft by hosting a series of training sessions, linked to the competitions. A day's training, led by a skilled member of the Association will enable anyone who is interested to learn the techniques and try their hand at this rewarding countryside skill. To obtain further details and to book a future training session, which cost £50 for the day, contact the Lancashire & Westmorland Hedgelaying Association by emailing annkendal43@gmail.com .
Spectators are welcome to come and watch this fascinating event on Sunday. It starts at 9.30am and finished at 3pm. Expect a bit of mud under foot and if bringing a dog, please keep it on a short lead at all times, for it's own safety.
If you would like further information of Sunday's event please call 07976 650803.