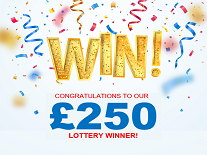 Wyre Council is delighted to share that this week Wyre Community Lottery had a lucky £250 winner who plays each week to support National Coastwatch Institution, Fleetwood.
National Coastwatch Institution, Fleetwood are a voluntary organisation who completely depend on public donations. They help protect life at sea and along Wyre's coastline by providing eyes and ears along the coast, monitoring radio channels and assisting with emergencies.
Martyn Cripps, Station Manager for National Coastwatch Institution, Fleetwood says "We are delighted that one of our supporters has won £250! We are happy to be one of the Wyre's Lottery good causes as it not only helps us raise funds, but also promotes the organisation within the community, and provides our supporters with the chance to win some great prizes. The funding we receive enables us to maintain equipment so it's in good working order, and helps us fulfil the role of protecting those who are using the coastline".
The lucky winner, Mr Philip Whiteley, a volunteer for the National Coast watch Institution said "We receive no government funding so financial help from the Wyre Lottery is very helpful, especially when recent fundraising has been limited. I was visiting our three grandchildren when I heard the news and rather hastily promised to split half between them! They were very happy! The lottery is good way to raise money for good causes. Long may it continue!"
Tickets for Wyre Council's community lottery are £1 and players could win up to £25,000 as part of the weekly draw, which takes place every Saturday.
Winners are informed via email and any prize money is transferred automatically to their chosen bank account.
From every £1 ticket you buy, 60p will go to local good causes in Wyre. You can select which of the registered good causes your money goes towards. What are you waiting for? Sign up to support a local good cause near you today!
To buy your tickets or register as a good cause visit the Wyre Lottery website