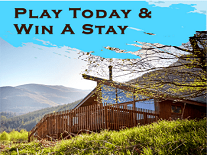 Sign up and support your local community today for just £1 per ticket.
You will not only be in with the chance of winning weekly cash prizes up to the £25,000 jackpot but if you enter before 28 August, you will be in with the chance of winning a Luxury Forest Staycation!
The prize is a break worth £1000 with Forest Holidays who have a variety of locations situated in some of the UKs most beautiful forests from Scotland to Cornwall, Snowdonia to Norfolk and more!
Since the pandemic hit local good causes will need even more support to recover over the coming months, even years. Wyre Lottery is a fun and easy way to help your community without giving up precious time.
50p of the £1 ticket goes directly to your chosen good cause with 10p going to the community fund, used to further support local good causes. It really is a win-win for you and your community. To buy tickets go to wyrelottery.co.uk or call 01253 578579.
The draw is on the 28 August and the results will be announced at 8pm on the lottery website.