Wyre Community Lottery is a great way to support local community groups, whilst being in with the chance to win cash prizes and goodies.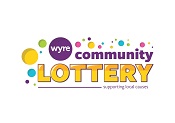 The online lottery helps raise funds for local, not-for-profit community groups in Wyre. For every £1 ticket sold, 60p will help to support local charities, voluntary organisations and other good causes. You can choose which cause benefits from 50p of your ticket cost, with 10p distributed to local good causes by Wyre Council and the remaining 40p attributed to prizes and administrative costs
What are the prizes? On top of a £25,000 jackpot, there are also a variety of cash prizes and a monthly extra prize. In the past, the monthly prize has been a free year of HelloFresh, a £1,000 John Lewis voucher, and a £1,000 Currys PC World voucher.
The weekly draw has prizes of:
£25,000
£2,000
£250
£25
three extra tickets
How it works
Tickets for the lottery cost just £1 a week. Each ticket has a 1 in 50 chance to win a prize each week, with a top prize of £25,000. That's a better chance of winning than the National Lottery or the Health Lottery.
Each ticket has six numbers and each number is between 0 - 9. There will be a draw every Saturday night when a six digit winning combination will be picked. Prizes will be given to players with tickets that match the first or last 2 to 6 numbers from the winning combination. Match all six and you win the jackpot!
The lottery and its prizes put the fun in fundraising. From every £1 ticket sold, 60p will go to your chosen charity or voluntary organisation in Wyre - that's 60% to good causes!
50p goes to your chosen cause and a further 10p gets distributed to the other local good causes. The rest of the money goes towards prizes and admin costs.
How to take part
Signing up is easy, just visit Wyre Lottery - Play and see what good causes you can buy a ticket to support.
Register your good cause
Signing up your community group, charity, or other good cause is simple and easy. You can register your good cause online by visiting Wyre Lottery - Good Causes.
Reasons to register:
You get your own lottery page with no costs or admin fees.
50% of sales will go to your cause and 10% into a central good cause fund.
There are no set-up costs, it's all free/.
There are great prizes available for your supporters.
You will be provided with regular marketing materials.
You will get email updates and access to data to help you gain insights into your support.
Alternatively, you can phone 01253 578579 or email support@wyrelottery.co.uk.
Terms and conditions apply to organisations wishing to sign up to Wyre Community Lottery.
Follow on social media
Follow the Wyre Community Lottery on the following social media channels:
What our good causes have to say
Read how the Wyre Community Lottery has helped local organisations and good causes so far.
National Coastwatch Institution Fleetwood
Here at the Fleetwood branch of the National Coastwatch Institution we have participated in the Community Lottery since February 2020. That, of course, coincided with arrival of Covid and was closely followed by the first national lockdown. All of our normal fundraising activities have been severely curtailed by the effects of the pandemic, and we have found the regular income generated from sales of lottery tickets has been a lifesaver.

Quite apart from being a bit of relatively low-cost 'fun' for those taking part, I am sure that our supporters find satisfaction in the knowledge that they are helping us to maintain a lookout for users of the coast and sea in our area. One or two of them have also netted some pretty decent prizes!

Without the financial support we get from the Community Lottery we would have really struggled to maintain the level of service that we deliver 365 days a year.
Facebook video: NCI Fleetwood speak to us about Wyre Community Lottery