Wyre Community Lottery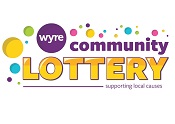 Our online community lottery provides not for profit community groups with a simple way to raise funds. 60p from every £1 lottery ticket sold will go to charities, voluntary organisations and other good causes. Players of the lottery can win a £25,000 jackpot, plus a variety of other prizes.
When a player buys a ticket they choose a specific good cause to receive 50p of their ticket money. A further 10p in every pound will go into a general Wyre Community Lottery good causes fund. Alternatively the full 60p can be donated to the Wyre Community Lottery good causes fund. The remaining 40p funds prizes, operating costs and VAT. The council do not make any profit.
Tickets can be bought online at www.wyrelottery.co.uk
If you would like to register your good cause contact us at:
Terms and conditions apply to those organisations wishing to sign up to Wyre Community Lottery.