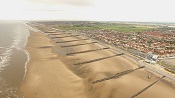 Wyre Council has secured over £40 million in government funding for our next major coast defence project, The Wyre Beach Management Scheme.
Building on the success of the completed Cleveleys and Rossall Coast Defence Schemes, this project will help to significantly reduce the risk of coastal erosion and flooding to over 11,000 properties and critical infrastructure. This will be achieved by constructing both rock armour groynes to help build a high stable beach. This will in turn reduce wave height and energy and the risk of overtopping and damage to the sea defences. The rock armour toe protection will also protect the existing structures from being undermined if and when beach levels drop.
From Monday 5 September, work will commence and begin with phase 1.
Phase 1
Phase 1 involves adding rock armour toe protection to the existing defences between Cleveleys and Rossall. This means placing rock armour under the beach in front of the existing concrete defences to prevent undermining during storms should beach levels drop. Initially, the first few months of work will involve the setting up of the site compound and rock storage area in Jubilee Gardens and some additional temporary works. Prior to works starting, there will be a number of diversions across and adjacent to Jubilee Gardens for vehicular access.
Most of Jubilee Gardens will be closed to the public as this will be used for offices, equipment and rock storage for the duration of the project. There will be some traffic and pedestrian control on the promenade next to Jubilee Gardens but you will still be able to travel along North Promenade. You will also be able to visit the beach as only a small area at a time will be worked on.
Work on phase 1 is expected to be complete by late July 2023 and phase 2 will then begin.
Phase 2
Phase 2 is the wider scheme which includes further rock armour toe protection and rock armour groynes to create high stable beaches across Wyre's coastline. Providing all approvals are granted, this work will immediately follow the phase 1 works and finish March 2027.
Temporary Road Closure
In order to construct the haul road across the public highway, a temporary road closure is required on North Promenade adjacent to Jubilee Gardens.
Dates and Details for the Temporary Road Closure
The closure will be in place from Monday 14th November 2022 until Friday 23rd December 2022
The closure will be removed for Christmas
Then it will be closed again after the New Year from Tuesday 3rd January until Monday 6th February 2023.
A diversion will be in place along Beach Road, Rossall Road, Carr Gate and Thornton Gate.
If possible, the closure will be opened at weekends in the period up to Christmas.
Please note THE VENUE will remain open as normal.
Find out more
Want to know more about the scheme? You can call into The Venue on Thursday mornings between 9am and 12 noon to speak to Jane Littlewood, Public Liaison Officer for the scheme.
Jane is available to answer any questions or concerns you have regarding the project. She can also be contacted at jane@therabbitpatch.co.uk or by phone on 07932 143431.
More details here: Most Recent Updates - Wyre Beach Management Scheme (visitcleveleys.co.uk)