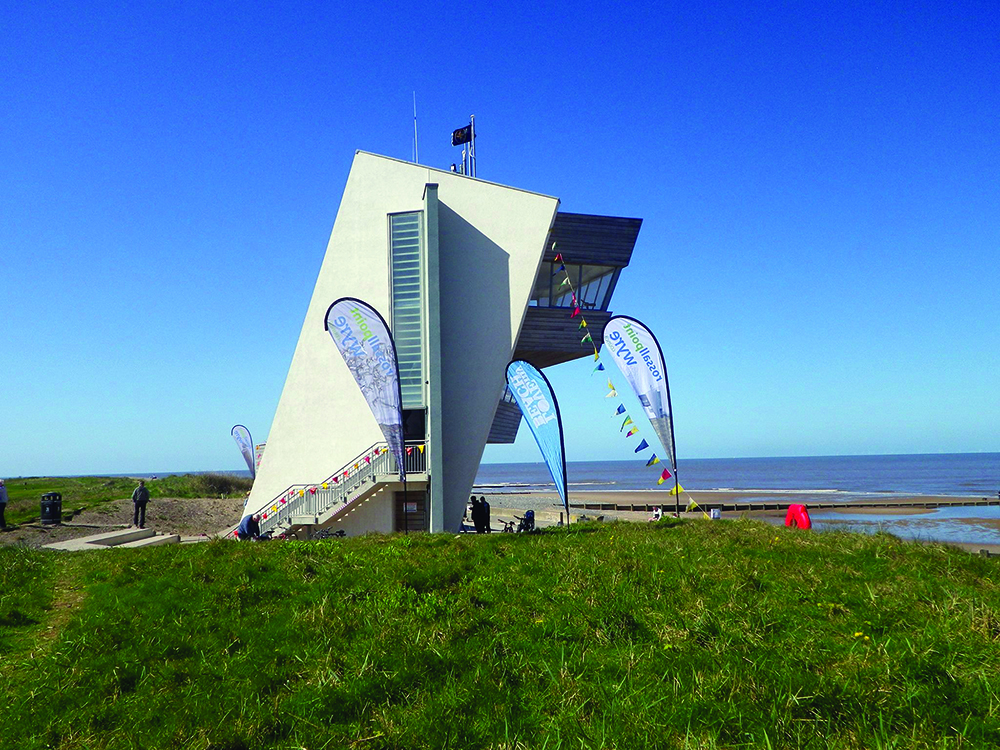 Rossall Point Observation Tower is located on the outer promenade at Rossall between Cleveleys and Fleetwood. You can get to it from the promenade or via a path from Princess Parade or from the Rossall Point car park and play area.
The tower is open to the public. Come inside and find out all about the coastal environment, bird life and plant life or just enjoy the view.
Downstairs you'll find information about the biodiversity of our coastline as well as lots of interesting things we have discovered on our beaches.
There are two viewing decks and binoculars for you to use for bird watching and taking in the views over the beach to the Irish Sea and across Morecambe Bay to the Lakeland fells and the Forest of Bowland. Or there's a roof top camera which you can control from the ground floor without having to climb the stairs, meaning everyone can enjoy the view. School and group bookings are welcome too.
Rossall Point Tower was commissioned by Wyre Council with funding through the Sea Change Programme. It has been designed to look as though it is leaning into the wind and rises 42 feet above the sand dunes.
The National Coastwatch Institute is based on the second floor of the tower and does a great job of keeping watch on the coast seven days a week.
There is a weekly beach clean outside tower every Thursday from 10.30am, please come along and join us, all equipment will be provided.
The tower is manned by Wyre volunteer rangers who run events and provide information about the local coastal environment. We're always on the lookout for volunteers to help us welcome visitors to the tower. If you would like to get involved email volunteering@wyre.gov.uk or call 01253 887504.
The tower is operated by Wyre Council. For enquiries please contact countrysideservice@wyre.gov.uk or call 07976 650803.
Opening times
These are subject to change and are weather dependent. We hope to open more days of the week in the future.
Rossall Point camera
View a live feed from the Rossall Point camera giving you views of the beach and promenade.
The image will refresh every 20 seconds. This camera is normally operated automatically.
Please report any faults and we will resolve as soon as possible.