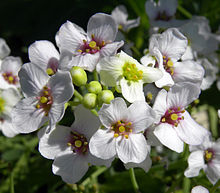 Birds
The Wyre Estuary forms the southern boundary of Morecambe Bay, one of the most important sites for wildfowl and waders in Europe with eleven species occurring in internationally important numbers.
In addition four species; Pink-foot Goose, Teal, Black-tailed Godwit and Redshank have populations of national importance within the Wyre Estuary. Wader and wildfowl populations change dramatically with the seasons, providing a year round interest for birdwatchers.
The hedgerows along the river provide nesting and feeding cover for a variety of commoner species, autumn berries attract flocks of Redwing and Fieldfare newly arrived from Scandinavia.
Wild flowers
The Wyre Estuary contains the largest area of ungrazed salt marsh in north west England, and is nationally important for providing food and shelter for a wide range of insects and birds. The plants are specially adapted to tolerate immersion in salt water and have waxy outer surfaces similar to cacti.
Salt marsh plants grow in distinct bands with pioneer species growing on the mud, and less salt tolerant species on the highest parts of the marsh.
The finest examples of salt marsh flora are found on the Burrow's Marsh nature reserve and along the riverside path between Stanah and Skippool. Plants to look for include Glasswort, Seablite, Sea Purslane, Sea Aster, Sea Lavender, Sea Milkwort, Scurvy-grass, Sea Plantain, Sea Arrow Grass and Frosted Orache.
Some of the higher marshes are colonised by Common Reed with the thicker stands providing nest sites for Reed and Sedge Warbler and Reed Bunting.
Visitors to the park are advised to resist the temptation to pick the Sea Lavender and Common Reed. The riverside footpath has an interesting flora with some limestone plants able to exist in the infilled sea defence.
Some of the special plants seen include Bee Orchid, Northern Marsh Orchid and Yellow-Wort. The short turf and patches of Birds-foot Trefoil provide suitable habitat for the Common Blue Butterfly. The hedgerows and woodland around Cockle Hall contain some attractive plant, including Red Campion, Herb Robert, Bluebells, Ramsons and Comfrey.
In late summer, look out for the large dragonfly, Aeshna grandis or Brown Hawker as it hunts along the hedgerow - it is the only dragonfly with brown wings.