Wyre Council back local businesses through Covid-19 and beyond as high streets reopen across the borough
Wyre Council back local businesses through Covid-19 and beyond as high streets reopen across the borough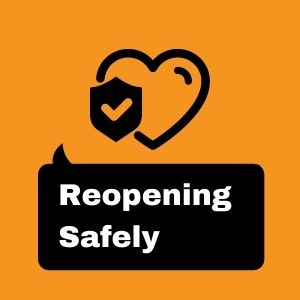 Published Wednesday, 05 May 2021
Over the last couple of weeks, many of Wyre's beloved local businesses and shops across high streets have opened their doors again with the full support of Wyre Council.
In line with the Government's roadmap, outdoor hospitality with local pubs, close-contact personal care services like salons and barbers, the markets at Fleetwood and Poulton as well as many of the borough's favourite non-essential stores and shops have returned to welcome back customers again.
Wyre Council remain committed to providing support as communities and businesses recover and have recently visited high street businesses across Fleetwood, Cleveleys, Poulton and Garstang to conduct business health checks and to distribute their 'Reopen Toolkits' designed to support businesses as they begin to welcome customers back.
Filled with guidance on how to keep employees and customer's safe, specific business support information and useful handouts and posters, the toolkits have been specifically created to support businesses as they start to transition from Covid-19 restrictions through to normal trading, as we continue on the Government Roadmap out of lockdown.
Along with these helpful Toolkits, Wyre Council has offered consistent support for local businesses throughout the pandemic; hiring dedicated Covid Marshalls and visiting over 1,500 businesses across Wyre helping them to operate safely. They have also installed social-distancing safety signage, hand-sanitising stations and responded to 500 requests for help. Wyre Council has also made over £41million in grant payments to 1000s of businesses over the past 12 months.
St John Stott, Director at Pure Leisure Group exclaims, "I thank (Wyre Council) for the efficiency and speed with which you've processed the COVID -19 grant applications. I've had to deal with a number of authorities over the last week and you can take heart that you were the most efficient and professional in your dealings."
Marianne Hesketh, Corporate Director Communities at Wyre Council says, "It's great to see Wyre open for business once again. Finally local customers can enjoy drinks with friends, go on real shopping trips instead of virtual ones and of course, get those all-important personal care treatments people have really missed!
"Wyre Council is committed to helping local businesses recover from the impact of COVID-19. Throughout 2020 we worked hard to support businesses and as we move forward in 2021, we are continuing this support and have set aside £300,000 for a new Town Centre Strategy Fund to help support this vital business recovery in key economic centres in the borough.
"We have been working with business leaders and key stakeholders to develop new partnerships for our town centres including Fleetwood, Cleveleys, Poulton and Garstang. These partnerships will allow us to work collaboratively and productively with Wyre businesses and ensure that we are able to create plans and deliver them in line with each of our unique town centre's individual business needs to facilitate our vision of vibrant town centres."
As we move towards the end of lockdown and begin to imagine a life with fewer restrictions, Wyre Council has launched their 'ReWyre' Campaign to support businesses and encourage residents to do the same, by shopping local and rediscovering what Wyre has to offer.
Funding to implement these resources and services has come from the Reopening High Streets Safely Fund which is provided by the European Regional Development Fund.
If you are a local business and need advice or support on how to reopen safely please get in touch by emailing commercialsafety@wyre.gov.uk and to learn more about local business support sign up to www.wyre.gov.uk/enews and select Business Interest.