New pass scheme launched for using open spaces for personal training and fitness activities
New pass scheme launched for using open spaces for personal training and fitness activities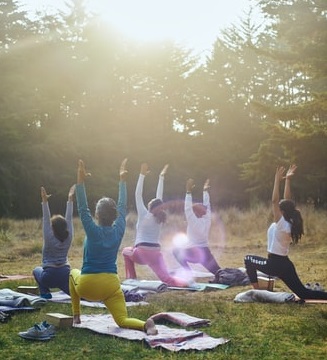 Published Thursday, 15 April 2021
If you're in the fitness industry, did you know you can use council land including the beach as part of a free trial?
All you need to do is apply for a pass from Wyre Council. If you intend to provide instruction or recreational fitness activities outdoors, the pass provides a simple and easy process for anyone wanting to use the council's land. The land is there to be used and the council want to encourage more people to use it safely.
The purpose of the pass is to ensure that open spaces are protected for all, whilst allowing visitors to our parks and open spaces to be able to engage in accessible wellbeing activities in a range of environments across Wyre. The pass ensures that organisers/trainers hold an appropriate qualification, are fully insured, and have liability for the safety of the participants. A pass is required for all activities that are operated on a commercial basis. Passes are not required for sports clubs with existing agreements with Wyre Council.
The pass will be valid for six months and will authorise each organiser use of a specified location/s for fitness/wellbeing activities in accordance with the terms. Please note this is a trial scheme and any feedback is welcomed.
The aim of the process is to promote health and wellbeing opportunities for Wyre's residents in parks and open spaces and it enables the council to highlight the best spaces to use and the wide variety of outdoor venues that they have for this type of positive use. Wyre Council already promotes their open spaces for people of all ages to attend and enjoy with all the health and wellbeing benefits that they bring. This doesn't replace that, it is a process that enables high quality sessions to take place regularly in a particular venue and time. It helps to avoid clashes with local sports teams who have booked their venues or with local events that will start now to take place.
Instruction or coaching may include personal training, physical fitness, martial arts, circuit training, use of the outdoor gym equipment and other similar activities that promote health and wellbeing.
Passes and locations will be limited in any calendar year and the number of passes issued by the council will be determined by:
• Usage and demand in an area
• The number of passes already approved in the area
• Possible conflicts with other users
Motorised sports are excluded from any permitted activity and passes are not required for sports clubs with existing agreements with Wyre Council land.
To apply for this pass a trainer must fit the eligibility requirements, you can view the full list of eligibility, terms and conditions and sites available for personal training and fitness in Wyre at www.wyre.gov.uk/fitnesspass
For more information contact the Community Engagement Officer Kerry Cossens at kerry.cossens@wyre.gov.uk