Symptom free testing for workers in Wyre - now open later on Tuesday and Thursday
Symptom free testing for workers in Wyre - now open later on Tuesday and Thursday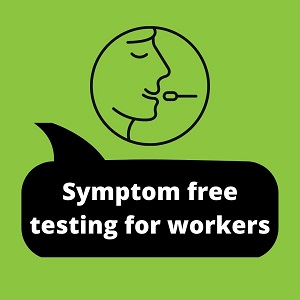 Published Tuesday, 16 February 2021
Wyre Council is offering regular, rapid coronavirus testing to symptom free workers who have to leave their home to work.
A new lateral flow testing centre has been set up at Thornton Leisure Centre and symptom free workers are now encouraged to get tested at least once a week and if possible every three to five days.
The centre is open from:
9am to 4.30 pm Monday, Wednesday and Friday
9am - 7pm Tuesday and Thursday
Testing is free and you do not need to make an appointment as tests are done on a drop in basis. Lateral flow testing devices are used with results given in around 30 minutes. You need a mobile number or email address to register when you arrive. You do not need to wait at the centre for your results, you will be text or emailed your results.
If you have symptoms, you must not attend these drop in sessions and should self-isolate immediately. Anyone feeling unwell can book a test via the NHS website, the NHS COVID-19 app or by calling 119.
Councillor David Henderson, Leader of Wyre Council comments, "We're inviting anyone who has to leave home to work, to get tested at least once a week to help stop the spread of coronavirus. The centre is open for anyone who is self-employed or who works for a business not currently offering testing.
"Symptom-free testing is currently voluntary, but it will help people to make informed decisions to help keep themselves and their families safe, and help protect those most vulnerable to COVID-19.
"It is estimated that around one in three people might not display symptoms but are still infectious. In order to bring rates down it's vital to break these chains of infection and repeated testing may help us do that.
"The testing centre is for those who can only work by leaving their home, anyone else who is concerned they may have coronavirus should book a test in the normal way, through the NHS website, app or by calling 119.
"The centre is a pilot for Wyre and if it proves to be successful we will look at how we can offer the testing at other sites in the borough."
Anyone testing positive will need to self-isolate for 10 days, along with their household or support bubble.
Councillor Henderson continues, "Self-isolating is crucial for stopping the spread of coronavirus. It is also a legal requirement for anyone who tests positive. We understand it's hard but please know that by staying at home you are stopping the spread of coronavirus in the community, literally saving lives. If you are on a low income, you may be entitled to the self-isolation support payment and if you don't have the support of friends or family our community hub is here to help."
For more information about coronavirus, testing and support in Wyre go to www.wyre.gov.uk/coronavirus