Wyre Council objects to Lancashire County Council's pay and display parking proposals on Fleetwood and Cleveleys seafronts
Wyre Council objects to Lancashire County Council's pay and display parking proposals on Fleetwood and Cleveleys seafronts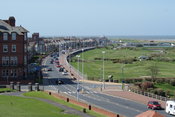 Published Tuesday, 01 December 2020
Wyre Council has written to Lancashire County Council to express their concerns and disagreement over the proposals to charge for on street parking on Fleetwood and Cleveleys seafronts.
Lancashire County Council is proposing to introduce day time pay and display parking on the roads along the coastal areas in Fleetwood and Cleveleys. The county council state that the purpose of the proposed order is to encourage visitors to the resort to use the off street parking facilities as far as possible in preference to parking on street, to improve traffic flows.
However, Wyre Council have submitted their objection to the proposed plans.
Councillor Alan Vincent, Deputy Leader of Wyre Council and Portfolio Holder for Resources, commented: "We do not consider that there is an issue with traffic flow in any of the areas proposed and certainly the introduction of day time pay and display parking will not improve traffic flows.
"As a Cleveleys councillor, I am disappointed in the county council's proposal that my constituents and visitors to my constituency will face parking charges to enjoy Cleveleys' seafront.
"Our seafronts are a major tourist attraction and we do not want our coastal communities to suffer as a result of this proposal.
"I have asked Councillor Keith Iddon who is the portfolio holder for highways at Lancashire County Council to come and visit the site with me to see for himself."
Wyre Council also believes that the introduction of pay and display parking would also impact the free parking offer it provides on Marine Hall car park. It is likely that the borough council would need to put in place management techniques to offset this.
Councillor Roger Berry, Portfolio Holder for Neighbourhood Services and Community Safety at Wyre Council, commented: "Wyre have resisted charging for parking on Fleetwood seafront car parks and it is not a position it relishes being pushed into by this proposal.
"Our seafronts offer some of the best views of the coast in the country, and it would be a great shame to make residents and visitors pay to enjoy this view."
Councillor Michael Vincent, Portfolio Holder for Planning and Economic Development, commented: "At a time when we are working on the Future Fleetwood initiative to bring prosperity and growth to Fleetwood, it is a great shame that Lancashire County Council are planning to introduce pay and display parking on Wyre's seafronts.
"Fleetwood and Cleveleys offer great attractions for residents and visitors alike and the introduction or pay and display parking in these areas will be detrimental to the seaside attractions we offer in Wyre."
You can view Lancashire County Council's proposals to introduce pay and display parking on their website.