An update from The Mount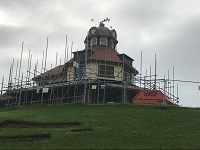 Published Tuesday, 14 July 2020
Work continues at our restoration project at the Mount in Fleetwood.
Lime plaster is being applied to the lodge ground floor internal walls which will eventually be the cafe area. In the basement of the lodge the walls have been cleaned and the floors flagged, and new windows and doors have been installed to match the existing windows and doors.
Over at the pavilion the high level works are now complete (we haven't forgot about the clock hands! These will be fit later, they are currently having a repair done). Our contractors Rosslee Construction are now starting to progress to the lower level works around the balcony area. This includes new structural steels being installed to hold the new balustrade firmly in place which will begin to be installed in the coming weeks. Internally the pavilion has had a full electrical rewire for new lighting, sockets etc.
The gardens are progressing well, currently work is in progress to the pathways, path edgings and the ground works around the lodge which include new steps down to the basement rooms. The playground is complete but will remain closed for now whilst the construction works on site continue.
To see the latest photos from the Mount restoration project visit our Flickr page. or click on the image below.
Full details of the project can be read on our Mount webpage.