Wyre Community Lottery tickets now on sale
Wyre Community Lottery tickets now on sale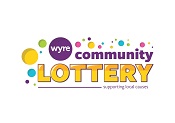 Published Tuesday, 18 February 2020
From today (Tuesday 18 February) tickets will be available online for the Wyre Community Lottery, giving you the chance to scoop a £25,000 jackpot and help local good causes.
The first draw takes place on Saturday 21 March, with 60p from every £1 ticket going to local charities and good causes. Good causes still have time to sign up for free and benefit from the lottery.

Councillor Lynne Bowen, Portfolio Holder for Leisure, Health and Community Engagement at Wyre Council said: "The Wyre Community Lottery is an innovative way to support charity and voluntary organisations, which also gives local people the chance to win some great prizes.
"The society lottery concept is an idea other local authorities are exploring and has been successfully launched by several councils already, with Wyre being the first in the North West.
"For small charities, the money they will receive from their supporters buying tickets will make a lot of difference, and will go a long way. We are encouraging local causes to register as a beneficiary of the lottery."

Players have a one in 50 chance of winning one of the prizes, which range from the £25,000 jackpot to three extra tickets.

To buy your tickets or register as a good cause visit www.wyrelottery.co.uk