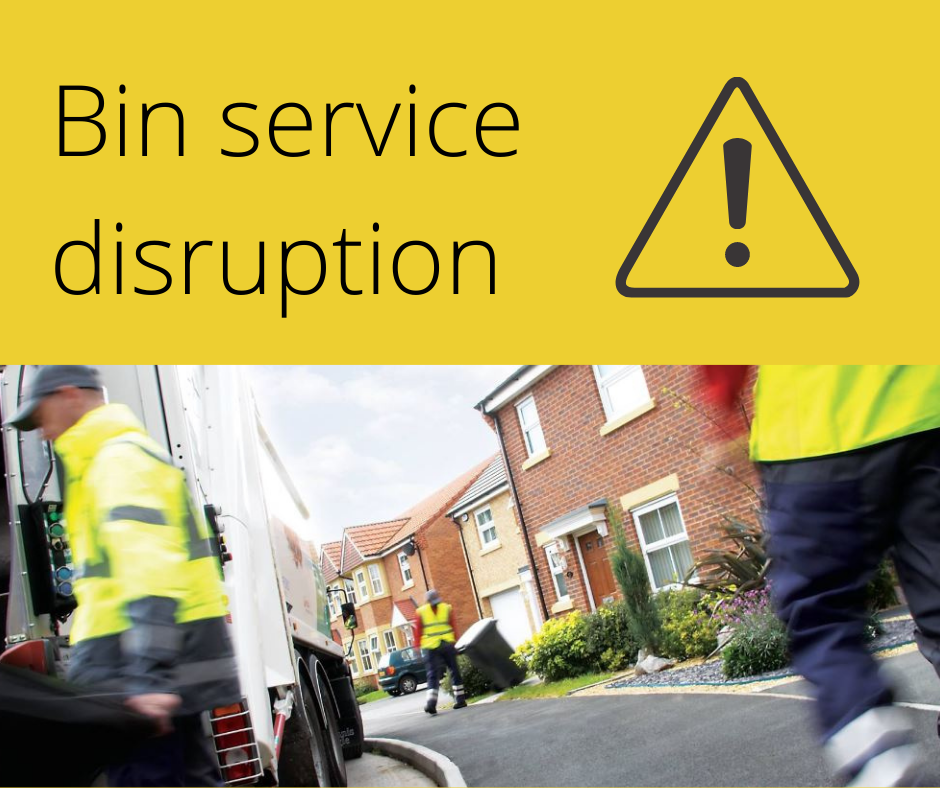 Due to COVID-19 and staff still having to self-isolate, some red bins will not be collected on your scheduled day this week.
We sincerely apologise to residents that are affected.
We hope to collect bins from affected streets on Saturday 31 Jul, but this may change as the week goes on. If we do not manage to collect, additional recycling placed next to your bin will be taken on the next red bin collection or you can take it to the recycling centre.
Your garden waste will be collected as normal.
Please do not report this as a missed bin on our website. Our crews are aware of the addresses that are affected.
We sincerely apologise for this disruption and inconvenience. Thank you for your patience and understanding in these difficult times.
Please share with your friends, neighbours and family who may not see this message.
List of affected addresses in Fleetwood (Monday 26 July collection):
ABBOTTS WALK
ABERCROMBIE ROAD 1-131
ADELAIDE STREET
AGNEW ROAD 1-101
ARDEN GREEN 1-29
ARIEL WAY 1-18
BAYSIDE
BYRON STREET
CARR ROAD 1-117
DARBISHIRE ROAD 1-138
DRONSFIELD ROAD 1-88
DUNCAN PLACE 1-6
ELSINORE CLOSE 1-26
GALLOWAY ROAD 1-41
HAMLET ROAD 1-65
HARROW AVENUE 1-36
HIGHBURY AVENUE 1-99
HOLLYWOOD GROVE 2-20
LAIDLEYS WALK 1-18
LOWTHER ROAD 1-38
LUNE ROAD
MACBETH ROAD 1-35
MERSEY ROAD 1-52
MILTON STREET
POULTON ROAD 96-274
RIBBLE ROAD 12-64
RIVERSGATE 1-51
ROWNTREE AVENUE 1-37
SHAKESPEARE ROAD 2-75
THE ESPLANADE 30-92
WARREN AVENUE NORTH 1-48
WARREN AVENUE SOUTH 1-35
WELBECK AVENUE
AVON GREEN 1-19
BEACH ROAD 1-149
BIRNAM GREEN 1-16
BORROWDALE AVENUE 1-66
BRAMLEY AVENUE 1-76
BROADWAY 10-75
CONISTON AVENUE 1-66
GRASMERE AVENUE 1-8
HATHAWAY ROAD 1-52
HIGH GATE 1-49
HIGHBURY AVENUE, Rossall Court 1-36
KINGFISHER WAY 1-59
KNOWSLEY GATE 1-26
LAIDLEYS WALK 1-57
LANCASTER GATE 1-29
LONSDALE AVENUE 1-24
LONSDALE CRESCENT 1-16
MACBETH ROAD 36-69
MALCOLM PLACE 1-8
MANOR ROAD 1-127
MANOR WOOD 1-9
MOWBRAY PLACE
MOWBRAY ROAD 1-83
POULTON ROAD 292-417
PRINCES WAY 1-48
RYDAL AVENUE 1-43
SHAKESPEARE ROAD 76-145
STANLEY GATE
STRATFORD PLACE
THE RIDGEWAY 1-37
WEST GATE 1-54
YORK AVENUE 1-11
ARNDALE CLOSE 1-10
BRATHAY PLACE 1-16
CALDER AVENUE 1-27
CHATSWORTH AVENUE 1-251
LIGHTHOUSE VIEW (ON CHATSWORTH AVENUE)
CRAKE AVENUE 1-73
CURTIS DRIVE 1-19
DERWENT AVENUE 1-35
DOUGLAS PLACE 1-20
EAMONT PLACE 1-36
EDEN AVENUE 1-57
ESK AVENUE 1-8
ETTRICK AVENUE 12-38
GARLAND GROVE 1-15
GOLBOURNE CLOSE 1-15
GRANGE ROAD 1-108
GRASSCROFT CLOSE 1-17
GREENDALE CLOSE 1-12
GRETA PLACE 1-10
HODDER AVENUE
HONISTER CLOSE
KENILWORTH AVENUE 1-50
KENILWORTH COURT
KENILWORTH PLACE
KENTMERE CLOSE
LAMOUR PLACE
LANGDALE COURT 1-6
LEIGHTON AVENUE 1-33
LEVEN AVENUE 1-57
LOTHIAN AVENUE 1-48
MARTINDALE AVENUE 1-59
MEDLOCK AVENUE 10-88
MEDLOCK PLACE 1-14
MONROE DRIVE
PRINCES WAY 49-105
REDE AVENUE 1-47
ROMNEY AVENUE 1-31
ROSSALL GRANGE LANE 1-84
ROTHAY AVENUE 1-16
ROTHWELL DRIVE 1-23
SAER CLOSE 1-20
ST JOHN AVENUE 1-66
TEVIOT AVENUE 1-32
WAVERLEY AVENUE 1-56
List of affected addresses in Thornton-Cleveleys (Tuesday 27 July collections):
BEACH AVENUE 1-17
BEACH ROAD
BEDFORD AVENUE 1-28
BRIGHTON AVENUE
CEDAR AVENUE 1-34
CHESTER AVENUE 1-70
CLARENCE AVENUE 1-59
CLEVELEYS AVENUE 1-98, 102
CUMBERLAND AVENUE 1-113
CYPRESS AVENUE 1-26
DORSET AVENUE
DURHAM AVENUE 1-45
ELMS AVENUE 1-33
GLOUCESTER AVENUE 1-18
HENLEY AVENUE 1-35
HOLMEFIELD AVENUE
LEICESTER AVENUE
LEICESTER GATE
LINCOLN AVENUE 1-41
NORFOLK AVENUE 1-41
NORTH DRIVE 456-607
ORMONT AVENUE 1-41
RAMPER GATE
RICHMOND AVENUE 1-39
ROSSALL ROAD 32-63
RUTLAND AVENUE 1-39
STOCKDOVE WAY 1-58
THE GROVE 1-16
VICARAGE AVENUE
VICTORIA ROAD WEST
WEST DRIVE 1-50
WEST DRIVE WEST 1-20
WHITESIDE WAY 1-32
WILLOUGHBY AVENUE 1-44
YORK AVENUE 1-15
AINSDALE AVENUE 1-27
AVON AVENUE
AYR COURT 1-5
BIRKDALE AVENUE 1-14
BOWLAND AVENUE 1-25
BRISTOL AVENUE 1-21
BROADWAY 430-490
COLLEGE GATE 1-8
CROSSWAY 1-15
EAST COURT 1-8
FAIRHAVEN AVENUE 1-23
FAIRWAY 73-133
FALMOUTH AVENUE 1-21
FISHERMANS WAY 1-25
FLEETWOOD ROAD (SPRINGFIELD TERRACE)
FORMBY AVENUE 1-22
GREEN DRIVE (CAVENDISH MANSIONS)
GREEN DRIVE 1-99
HOLME AVENUE 1-9
HORNBY AVENUE
HOVE AVENUE 1-21
KINGS WALK 12-52
LANEFIELD DRIVE 1-19
LYNTON COURT 1-8
MARLBOROUGH AVENUE 1-36
MEDWAY AVENUE 1-9
MILLOM CLOSE 1-8
NORTH COURT 1-8
NORTH DRIVE
NORTH SQUARE 1-36
OSBORNE GROVE 1-30
OSBORNE ROAD
PLYMOUTH AVENUE 1-26
QUEENS WALK 1-62
ROSSALL CLOSE 1-30
ROSSALL GATE 1-27
ROSSALL LANE 1-33
ROSSALL PROMENADE 1-56
ROSSALL ROAD 118-122
ROUNDWAY 1-35
SEVERN AVENUE 1-9
SHAFTESBURY AVENUE 1-40
SOUTH AVENUE 1-29
SOUTH SQUARE 1-19
SOUTH STRAND 1-64
SOUTHGATE 1-19
SUNNINGDALE AVENUE 1-22
THE CLOSE 1-15
THE COP 1-6
THE SQUARE
THE STRAND 1-86
ULLSWATER AVENUE 1-72
WAY GATE
WENTWORTH AVENUE 1-19
WEST COURT 1-8
WEST WAY 1-48
WESTBOURNE ROAD 1-52
WINDERMERE AVENUE 1-18
ALLONBY AVENUE 1-18
ALSTON AVENUE 1-48
ARROWSMITH GARDENS 1-24
BARNES DRIVE 1-41
BEECHCROFT
BLYTHE AVENUE
CARR GATE 1-49
CLEVELEYS AVENUE 81-180
CONSETT AVENUE 1-37
DURBAN COURT 1-16
EGREMONT AVENUE 1-31
HEXHAM AVENUE 1-54
JUBILEE DRIVE 1-39
KENDAL AVENUE 1-23
MANOR DRIVE 1-65
MILNTHORPE AVENUE 1-26
NEWMAN GROVE 1-19
NORTH PROMENADE 44-56
NORTHUMBERLAND AVENUE 1-72
OXENHOLME AVENUE 1-38
PALATINE ROAD 1-76
PENRITH AVENUE 1-43
RINGWAY 1-172
ROSSALL GARDENS
ROSSALL PROMENADE 1-3
ROSSALL ROAD 66-117
SEATON AVENUE 1-28
SOUTHWORTH WAY 1-36
TEBAY AVENUE 1-39
THE CORNERS 1-38
THE COVE 1-18
THE LINKS 1-8
THORNTON GATE 1-79
TYNE CLOSE 1-10
WEETON AVENUE
WESTMORLAND AVENUE 1-58
WHITLEY AVENUE 1-32
BEACH ROAD 1-107
BEACHCOMBER DRIVE 1-27
BISPHAM ROAD
CAMBRIDGE ROAD 1-16
CLEGG AVENUE 1-29
CORONATION ROAD 1-36
CRESCENT WEST
DERBY ROAD 1-18
ELLERBECK ROAD 1-33
KENSINGTON ROAD
KINGS ROAD
KINGSWAY
NORTH PROMENADE 1-32
NUTTER ROAD 1-95
OCEAN WAY 1-32
OXFORD ROAD
PRINCESS ROAD
RITHERHAM AVENUE 1-18
ROSSALL ROAD 1-31
ROUGH LEA ROAD
RUNNYMEDE AVENUE 1-7
RYDEN AVENUE 1-23
SANDY CLOSE 1-22
SLINGER ROAD 1-35
SMITH ROAD 1-18
SOUTH PROMENADE
THE CORNERS
VICTORIA ROAD WEST 1-104
WARD AVENUE1-20
WATERS REACH
List of affected addresses in Thornton-Cleveleys (Wednesday 28 Jul collection):
ASTON AVENUE 2-8
AVONSIDE AVENUE 1-19
BARDSWAY 1-32
BENENDEN PLACE 1-7
BIRCH AVENUE 1-56
BYRON AVENUE 1-15
CALDER AVENUE 1-58
CHETHAMS CLOSE 1-8
CHICHESTER CLOSE 1-7
CHURCH ROAD 1-99
CHURCHILL CLOSE 1-15
CONDER AVENUE 1-12
DOVEDALE AVENUE 1-31
EXETER DRIVE 1-25
FAIRHOLMES CLOSE 1-9
FAIRHOLMES WAY 1-28
FLEETWOOD ROAD NORTH
GASKELL CRESCENT 1-59
GORDONSTOUN PLACE 1-8
GRIZEDALE COURT 1-7
HAZELWOOD CLOSE 1-13
HOLMEFIELD AVENUE
HOLMEFIELD CLOSE 1-21
HOLMES ROAD 1-73
KEATS CLOSE 1-15
KEELE CLOSE 1-6
LANGDALE CLOSE 1-20
LOWESWAY
MARSH ROAD 1-99
MEADOWS AVENUE 1-57
PATTERDALE AVENUE 1-22
PENNYFARTHING LANE 1-9
ROEDEAN CLOSE 1-10
ROEHAMPTON CLOSE 1-15
ROWLAND CLOSE
ROWLAND LANE 1-44
SHREWSBURY DRIVE 1-15
ST MARTINS COURT
THE HERMITAGE 1-30
THE LILACS
THORNLEIGH CLOSE 1-8
TRINITY GARDENS 1-39
WARING DRIVE 1-98
WELLS CLOSE 1-22
WHARFEDALE AVENUE 1-40
WINSTON AVENUE 1-30
WORDSWORTH AVENUE 1-32
BARNFIELD CLOSE 1-15
BENNETT ROAD 1-30
BLACKTHORN CLOSE 1-9
BLUEBELL CLOSE 1-33
BORAGE CLOSE
BRANKSOME AVENUE 1-49
BROWNING AVENUE 1-15
BRYONY CLOSE
BURNS AVENUE 1-33
CALENDINE CLOSE 1-16
CAMPION CLOSE
CHAFFINCH CLOSE 1-22
CHAUCER AVENUE 1-19
COLERIDGE AVENUE 1-25
CURLEW CLOSE 1-25
DUNLIN CLOSE
EIDER CLOSE 1-19
ELDERBERRY CLOSE 1-15
EVERSLEIGH AVENUE
FIELDFARE CLOSE 1-12
HERON CLOSE
KEEPERS HEY
KESTREL CLOSE
KILDARE AVENUE
KINGSLEY CLOSE
LINDEN AVENUE 1-48
MALLARD CLOSE
MASEFIELD AVENUE 1-34
MAYFIELD AVENUE 1-102
MEADOWS AVENUE 59-77
MILTON AVENUE 1-23
MYRTLE AVENUE 1-23
PARTRIDGE AVENUE 1-44
PHEASANT WOOD DRIVE 1-80
PICKMERE CLOSE
PLOVER CLOSE 1-15
REDWING AVENUE
RUSKIN AVENUE
SHORE GREEN
SNIPE CLOSE
SORREL CLOSE
SPEEDWELL CLOSE
SWALLOW CLOSE
TEAL CLOSE
TENNYSON AVENUE
THE COVERT 1-19
THE MEADOWS
THISTLE CLOSE
TREFOIL CLOSE
WEST DRIVE 158-342
WHIMBREL DRIVE 1-33
WHITEBEAM CLOSE
WHITECREST AVENUE 1-26
WIDGEON CLOSE 1-27
WOODCOCK CLOSE
WOODRUFF CLOSE
WORDSWORTH AVENUE
ANCHORSHOLME LANE 127-308
BESCOT WAY 1-23
BISPHAM ROAD 1-12
BOVINGTON AVENUE
BUNTING PLACE
CATON MOOR CLOSE
CHAMPAGNE AVENUE
CHARDONNAY CRESCENT
CRAVEN CORNER
CRESCENT AVENUE
CRESCENT EAST
CRESCENT WEST
DENBIGH AVENUE
DOVE CLOSE
EASINGTON FELL ROAD
FIR TREE PLACE
GARNET CLOSE
GLADSTONE WAY
GOLDSTONE DRIVE
GRASSINGTON PLACE
GREEN OAK PLACE
HERIOT CLOSE
HERITAGE WAY
INGLENOOK CLOSE
KELVERDALE ROAD
KITTIWAKE CLOSE
KNIGHTS CLOSE
KNOTTS WOOD CLOSE
KNOWLE AVENUE
MARBLE AVENUE
MEADOWCROFT AVENUE
MELBOURNE AVENUE
MERLYN ROAD 1-47
MOORHEN PLACE 1-16
NORCROSS LANE
NORMAN CLOSE 1-21
NORTH DRIVE 440-459
OSBORNE AVENUE 1-35
PARLICK PLACE
PLAINMOOR DRIVE
POCHARD PLACE 1-17
PRENTON GARDENS 1-25
PRIESTFIELD 1-20
RADNOR AVENUE
REDSTART PLACE
RICHARDS WAY
ROMAN WAY
ROSEBANK 1-78
SANDERLING CLOSE 1-32
SANDPIPER PLACE
SEVENOAKS DRIVE
SHERWOOD PLACE
SIXFIELDS
ST ANDREWS AVENUE
ST DAVIDS AVENUE
ST GEORGES AVENUE
STANLEY AVENUE 1-66
STONEWAY ROAD
STONEYGATE
STORK CLOSE 1-41
SWAN DRIVE 1-96
THE SHAY
THE SPINNEY 1-78
THORNCROSS
TUDOR CLOSE
VICTORIA ROAD WEST 114-314
WARDSTONE CLOSE
WARREN DRIVE
WHITE CARR LANE
WHITE HILL COURT
WILLIAMSON PARK ROAD
WILLOWS AVENUE
WOOD GREEN DRIVE 21-53
List of addresses affected on Thursday 29 July:
ACACIA CLOSE
AINSDALE AVENUE
ASHCOMBE GATE
BALFOUR CLOSE
BIRKDALE CLOSE
BROOKFIELD AVENUE
BROOKFIELD ROAD
CHELTENHAM CRESCENT
CHISWELL GROVE
COTSWOLD COURT
CRANBOURNE GROVE
DALEFORD CLOSE
DRYSDALE AVENUE
ELLESMERE AVENUE
ENDERLEY COURT
FAIRHAVEN CLOSE
FARNWORTH ROAD
FURLONG GREEN
GALWAY CLOSE
GATEWAY CLOSE
GLADEWAY
HASTINGS CLOSE
HASTINGS ROAD
HAWKSTONE CLOSE
HEBRIDIAN DRIVE
HERDWICK AVENUE
HILLSIDE CLOSE
KELSONS AVENUE
LAMBS HILL CLOSE
LAMBS ROAD
LEAWAY CLOSE
LIMEBREST AVENUE
LINKS GATE
LITTLE ACRE
MARINO CLOSE
MERINO COURT
MILLERSDALE CLOSE
NEW ROAD
PARKSTONE AVENUE
PORTLAND CLOSE
RAIKES ROAD
RIDGEWAY DRIVE
ROMNEY CLOSE
SCHOOL ROAD
SHETLAND COURT
SOUTHDOWN CLOSE
ST JOHNS AVENUE
STANAH ROAD
STATION ROAD
STONEYHURST AVENUE
SUFFOLK CLOSE
SUNNINGDALE DRIVE
TARN ROAD
TARNWAY AVENUE
THORNFIELD AVENUE
THORNWAY AVENUE
TROON AVENUE
TURNBERRY AVENUE
TUXBURY DRIVE
WENSLEYDALE CLOSE
WENTWORTH DRIVE
WHARTON AVENUE
WILDOAKS DRIVE
WILLOW CLOSE
WILLOW COURT
WILLOW TREE GARDENS
WILLOWDALE
WREN CLOSE
ASHDELL CLOSE
BANCROFT AVENUE 1-29
BONNEY STREET
BOWNESS AVENUE 1-15
BROWN STREET 1-28
CARLISLE GROVE
CONISTON AVENUE 1-58
CONISTON CRESCENT
CROWDER AVENUE
DEVONSHIRE AVENUE 1-99
FANTAIL CLOSE
FARM CLOSE
FERNDALE CLOSE
FLEETWOOD ROAD NORTH 1-98
GLENMORE AVENUE
GORDON AVENUE
GRANGE AVENUE
GRASMERE AVENUE
HARGREAVES STREET
HARRISON AVENUE
HOLLY ROAD
KNOWSLEY CRESCENT 1-52
LANCASTER AVENUE
LAWSONS ROAD
LINDADALE AVENUE
LONGTON AVENUE
MAGNOLIA MEWS
MARSH MILL VILLAGE
MEADOWS AVENUE
MILL VIEW
OCCUPATION ROAD
PATTEN PLACE
PLEASANT GROVE
PRESCOT PLACE
ROSSENDALE AVENUE NORTH 1-67
ROYLES BROOK CLOSE
ROYLES COURT
RYDAL AVENUE
SANDYFORTH AVENUE 1-79
SPRINGBANK AVENUE
TRUNNAH ROAD
TRUNNAH GARDENS 1-79
ULLSWATER AVENUE
ULLSWATER CRESCENT
VICTORIA ROAD EAST
WINDSOR AVENUE
WOODLAND AVENUE 1-79
ARUNDEL DRIVE 1-199
ASHLEY CLOSE
AVERY GARDENS
BEECHWOOD DRIVE
BEESTON AVENUE
BOLTON AVENUE
BRAEMAR AVENUE
BRIARWOOD CLOSE
BROUGHTON WAY
BUCKINGHAM WAY
CALDICOT WAY 1-21
CANTERBURY CLOSE 1-28
CARISBROOKE CLOSE
COMPTON CLOSE 1-39
CORBRIDGE CLOSE 1-29
DONNINGTON ROAD 1-33
ELDERWOOD AVENUE 1-23
ELVASTON ROAD 1-26
FARNHAM WAY 1-54
FERNWOOD AVENUE 1-46
FIRSHILL CLOSE 1-24
FLEETWOOD ROAD 87-290
FLEETWOOD ROAD SOUTH
GUILDFORD WAY
HADLEIGH ROAD
HAREWOOD CLOSE 1-46
HAWTHORNE ROAD 63-96
HEATON CLOSE 1-37
KNARESBOROUGH CLOSE
LAUREL DRIVE
MALDERN AVENUE
MILL CLOSE
NEVILLE DRIVE
NEW LANE
NEW ROAD
NEWTON GROVE
PALFREY CLOSE
PALM DRIVE
PASTURE FIELD
PINEWOOD AVENUE 1-76
PLECK PLACE
POND GARDENS
PRIMROSE WAY
SHERBOURNE CLOSE
SHERBOURNE COURT
SKIPTON AVENUE
TAYLORS CLOSE
THE PADDOCK
THE RUNRIGGS
TOTNES CLOSE 1-29
VICTORIA ROAD EAST
WESTLANDS COURT
WOODSTOCK AVENUE
List of addressess affected Friday 30 July collections:
ADLINGTON AVENUE
APPLETON CLOSE
BELGRAVE PLACE
BELGRAVE ROAD
BELMONT AVENUE
BLACKPOOL OLD ROAD 125-409
BLACKPOOL ROAD 173-312
BLEASDALE AVENUE
BRAMLEY GARDENS
BRENTWOOD AVENUE
CALDERVALE AVENUE
CHEW GARDENS
CHILTERN AVENUE
COTTAM PLACE
DALE DYKE WALK
DODGEONS CLOSE 1-64
DOVESTONE DRIVE
ELKFIELD DRIVE
FAIRFIELD AVENUE
FAIRWAY
FALCON DRIVE 1-59
GARSTANG CLOSE
GEZZERTS RISE
GLENDALE CLOSE
GLENHOLME GARDENS
GRIZEDALE AVENUE
HOWDEN HEIGHTS
KINDER CORNER
KINGFISHER DRIVE
KINGFISHER MEWS
LADYBOWER LANE
LAWNSWOOD AVENUE
LEYFIELD CLOSE
MEADOW CRESCENT
MOSSBOURNE ROAD 1-56
NIGHTINGALE DRIVE
QUENBY CORNER
ROBINS CLOSE
ROBINS LANE
ROBSON WAY
SAWTHORPE WALK
STANLEY AVENUE
STOCKS LANE
THE BRAMBLINGS
THE FINCHES
THE FULMARS
THE LANE
THE LAPWINGS
THE ROWANS
TORSIDE GROVE
WESTFIELD AVENUE
WINSCAR WALK
WREN CLOSE
WYRESDALE AVENUE
ALBANY CLOSE
ALDER GROVE
BAINESFIELD
BECKDEAN AVENUE
BEECHWOOD COURT
BROCKLEWOOD AVENUE
BROCKWAY
CARR HEAD LANE
COMPLEY AVENUE
COPPINS GREEN
DANE MEWS
DUNNOCK AVENUE
EATON WAY
EILDON DRIVE
ELM CLOSE
FAIRFIELD ROAD
FOXGLOVE DELL
FYLDE VIEW CLOSE
GRASSMERE CLOSE
GREEN DRIVE
HARDHORN ROAD 60-314
HARDHORN VILLAGE
HARDHORN WAY
HAWESWATER DRIVE
HIGHCROSS ROAD
HODDER WAY
HODGSON PLACE
JUNIPER PLACE
LEANDER GARDENS
LEVENS CLOSE
LEVENS DRIVE 1-84
LIME GROVE
LINDERBRECK LANE
LINDSAY AVENUE 1-58
LITTLE COPPINS LANE
LOWICK DRIVE
MAPLE DRIVE
MILL HEY AVENUE
NEWBY AVENUE
NEWLAND WAY
NEWTON AVENUE
NORTHWOOD WAY
OLDFIELD CARR LANE
OLDFIELD CLOSE
ORCHARD AVENUE
PARTRIDGE CLOSE
PEREGRINE COURT
ROWAN CLOSE
SNOWDROP DELL
SOUTHBOURNE AVENUE
ST CHADS CLOSE
STAFFORD AVENUE
THE HAMPTONS
TOWBRECK GARDENS
VICTORIA ROAD EAST
WATERLEAT GLADE
WESTBY COURT
WESTBY WAY
WINDERMERE AVENUE
WOODLAND DRIVE
YEW TREE DRIVE
AVENUE ROAD 1-48
BENEDICT DRIVE
BEVERLEY AVENUE 1-67
BOWOOD COURT
BROMPTON ROAD
BURFORD CLOSE
CEDAR AVENUE
CONWAY AVENUE
DERWENT PLACE
DOBSON ROAD
EVESHAM ROAD
FAIRFIELD AVENUE
GREBE CLOSE
HIGHCROSS AVENUE
HIGHCROSS HILL
HIGHCROSS ROAD 1-184, 213-247
KERSLEA AVENUE
LEDBURY ROAD 1-89
LONGHOUSE LANE 1-85
MARINA AVENUE
MERCIA GROVE
MILTON CRESCENT
MORESBY AVENUE
NEWTON DRIVE EAST