Tickets out now for top British folk band at Marine Hall, Fleetwood
Tickets out now for top British folk band at Marine Hall, Fleetwood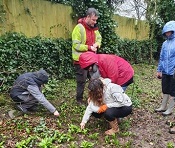 Published Wednesday, 10 June 2015
Expect a show-stopping night as Marine Hall hosts what could easily be the most thrilling concert of the year.
Lau are regarded as one of the UK's most inventive bands and their dazzling performances have captivated audiences across the world.
Crowned Best Folk Group at the BBC Radio Two Folk Awards an incredible four times, Lau is one of the most exciting live acts touring the UK right now.
Described by The Guardian as 'perhaps the best live band in the country', Lau are three highly individual and extremely gifted musicians - Martin Green on accordion and electronics, Aidan O'Rourke a nimble fiddle player and singer and guitarist Kris Drever. For a decade they have been stretching folk music's boundaries further and exploring new musical territory with each release and concert tour.
Now touring on the on the back of acclaimed new album The Bell That Never Rang (produced by Joan As Police Woman), this is a rare opportunity to enjoy a memorable evening of immensely powerful and beautiful songs performed by this much-loved and critically lauded band.
Lau are playing at Marine Hall on Tuesday 24 November at 8pm. Tickets are £16 and are on sale now. To book call the box office on 01253 887693 or buy online at www.marinehall.co.uk