Wyre Community Lottery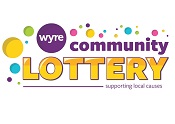 Wyre Council is introducing a new online lottery called the Wyre Community Lottery. We are launching this new initiative to provide good causes and community groups with a simple and easy way to raise much needed funds.
60p from every £1 lottery ticket sold will go direct to charities, voluntary organisations and other good causes. Players of the lottery can win a £25,000 jackpot, plus other prizes.
When a player buys a ticket they can choose a specific good cause to receive 50p of their ticket money.
We're inviting good causes in Wyre to sign up to the scheme. When they do they will be listed on the Wyre Communuty Lottery website and supporters can choose for their 50p to come directly to a specific good cause.
A further 10p in every pound will go into a general Wyre Community Lottery good causes fund, with the remainder being put towards prizes, operating costs and VAT.
Tickets will be on sale in February 2020 and our first draw will be in March 2020. Details of how to buy the tickets will be posted here soon.
We will be hosting a Good Causes Launch event on 22 January, 2020 at 6pm at Wyre's Civic Centre, Breck Road, Poulton-Le-Fylde, FY6 7PU.
If you are a good cause in Wyre and are interested in signing up to the lottery or coming to the launch event please email lottery@wyre.gov.uk.
Terms and conditions apply to those organisations wishing to sign up to Wyre Community Lottery.
Rate this page
Give us your feedback on this page!